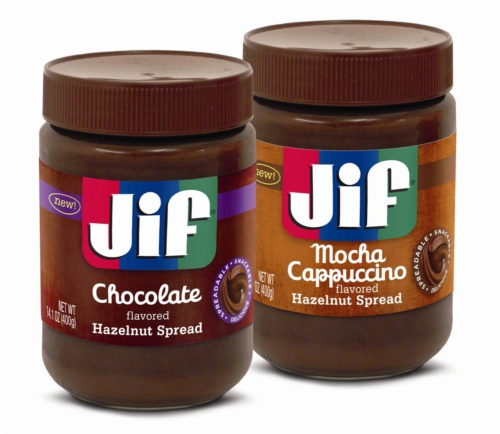 Jif, the leading peanut butter brand, has recently added two hazelnut spreads to the Jif family of products! Oh YUM!  Jif Hazelnut Spreads are everything you've grown to love about Jif but now in two delectable, rich and creamy hazelnut spreads inspired by chocolate and coffee!  The scrumptious flavors consist of Jif Chocolate Flavored Hazelnut Spread and Jif Mocha Cappuccino Flavored Hazelnut Spread.  Both varieties  are now readily available where you purchase groceries.  The new products offer the latest way to spread the love and make anything as well as any moment just a little sweeter.
"As a brand with more than 50 years of peanut butter history, the new hazelnut spreads are a natural line extension for the #1 choice of choosy moms and dads," said Maribeth Badertscher, Vice President, Corporate Communications, The J.M. Smucker Company. "Jif Hazelnut Spreads offer a delicious new way to make more memorable meals and moments."
The two delicious spreads can make it easy to put a hazelnut twist on your favorite snacks, desserts, beverages, and recipes.  Here are just a few suggestions provided by the J. M. Smucker Company.
Breakfast: Spread on top of toast, waffles or pancakes for a delicious way to start the day.
Hot and Cold Beverages: Add to coffee, hot chocolate or a milk shake for a unique twist on a favorite beverage.
Snack: Use in s'mores instead of chocolate bars for a tasty treat or simply enjoy with pretzels or graham crackers.
Dessert: Use as an icing on your favorite brownies or drizzle over ice cream.
For additional information about Jif Chocolate and Mocha Cappuccino Flavored Hazelnut Spreads or for great tips and recipes, visit www.jif.com/hazelnut. You can also join the Jif community on Facebook at www.Facebook.com/Jif.