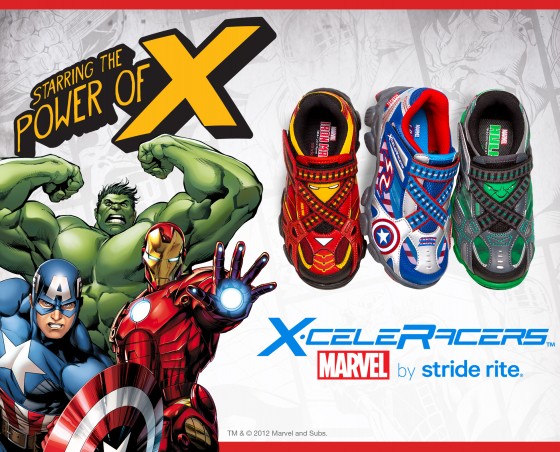 What kid doesn't want to feel like a super hero right?  Well now they can in their new Stride Rite X-celeRacers!   Stride Rite Children's Group is bringing blockbuster summer excitement to kids with the all-new X-celeRacers Marvel collection shoes!  Premiering at locations where Stride Rite footwear is sold, X-celeRacers encourages youngsters to be super — to the Power of X — with styles featuring their most favorite Marvel Super Heroes including Iron Man, Captain America, The Incredible Hulk and Spider-Man.  With all the craze of the new Avengers movie coming to theaters May 4th these shoes are going to be HOT!
The new X-celeRacers sneaker features an X-tra fast strap with an adjustable closure for X-traordinary fit, X-Grip with a grooved outsole for X-treme traction, X-tra Flex with a lightweight outsole for X-ceptional agility and X-treme lightweight cushioning for comfort.
[field name= iframe]
For more information check out the special X-celeRacers by Stride Rite Marvel collection webpage at www.striderite.com/marvel!