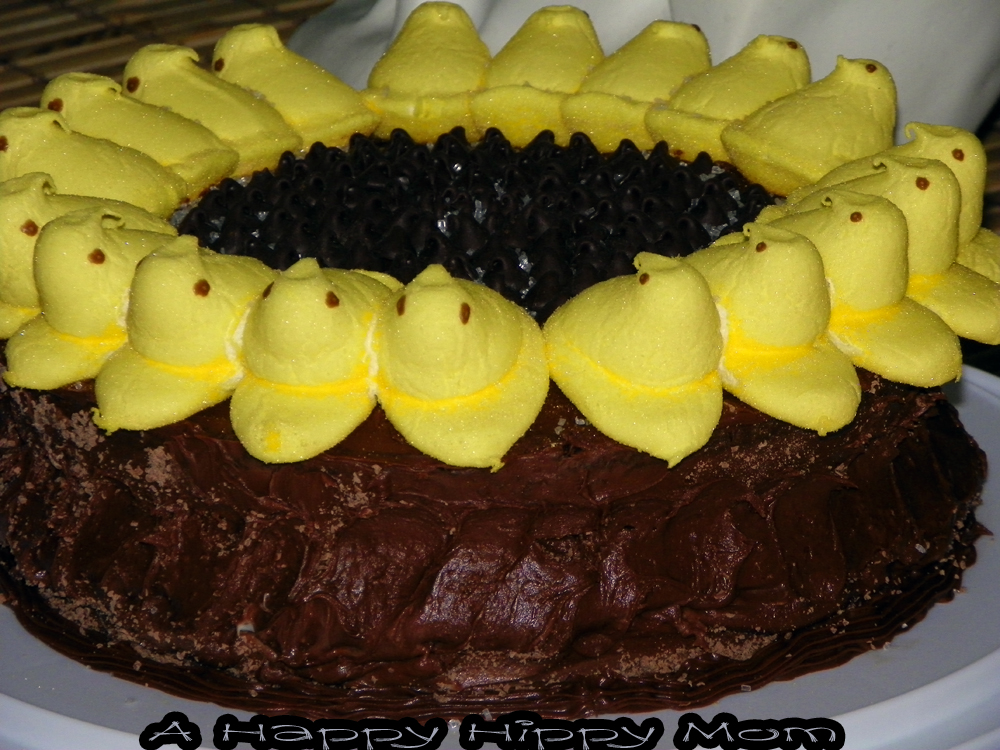 Easter wouldn't be complete if there wasn't peeps!   I happen to adore the cute little marshmallow chicks, so when I came across this recipe in the April 2012 issue of Readers Digest I just had to make it!  The Peeps Sunflower Cake is extremely easy to make, but looks like you spent hours preparing it!  It is the perfect dessert to feed your guests this Easter!  The yellow fluffy peeps go around the border of the cake to resemble eye-catching flower petals and the chocolate chips are arranged carefully in a circle to look like the seed of a sunflower.  The trick to creating this delicious dessert is to keep your kids from eating the supplies before they reach the cake!
Peeps Sunflower Cake Recipe
Ingredients
1 package (18-1/4 ounces) yellow cake mix
2 cans (16 ounces each) chocolate frosting
19 yellow chick Peeps candies
1-1/2 cups semisweet chocolate chips
Directions:
Prepare and bake cake according to package directions, using two greased  9-in. round baking pans.  Cool cakes for 10 minutes and then remove them from pans to wire racks to cool completely.
Level tops of cakes. Spread frosting between layers and over the top and sides of cake.
Without separating Peeps, curve chicks around the border of  cake to create  sunflower petals. For sunflower seeds, arrange chocolate chips in center of cake.
Yield: 12 servings.
Don't be afraid to get creative!  I shaved some chocolate to dust the outer cake with and sprinkled a bit of coarse decorating sugar on top to give the cake an extra sparkle.
 Happy Easter my sweet chickadees!