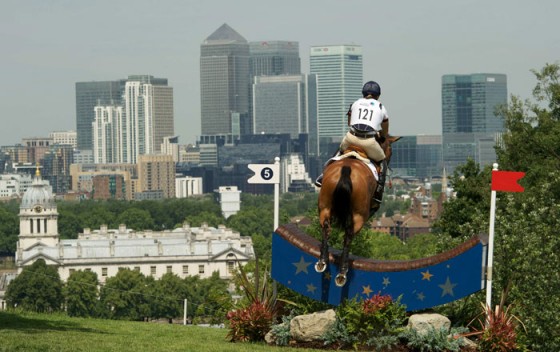 Are you planning on watching the 2012 Summer Olympics?  The games are going to occur in  London, England, United Kingdom from 27 July to 12 August 2012. The London 2012 Olympic Games will feature 26 sporting events, which break down into 39 disciplines and 20 sporting activities within the Paralympic program such as Paralympic Cycling-road and track, shooting, tennis, powerlifting, ect…
I don't follow every one of the events, however I do take pleasure in viewing the Paralympic Equestrian, Equestrian  Dressage, Equestrian Jumping, and Equestrian Eventing.  My favorite out of the sports is definitely the show jumping where horse and rider are evaluated upon preciseness, swiftness and perfect technique.  The jumping levels of competition are held in an arena around a short course comprising of 12-14 fences and the event demands extreme accuracy and nerves of steel.  There is a total of five rounds within the competition wherein two of these rounds are used to determine the placings in the Team event, with all five rounds actively playing a significant part in the Individual event.  The real thrilling possibility is when one or more riders are tied for first place following the final scheduled round and a jump-off event is necessary to break the tie!  The Jumping competition is going to be held in the gorgeous surroundings of Greenwich Park and it is set to take place August 4 through the 8th.  A total of 75 athletes are going to be competing in the two events for medal placing!
The reason I really like the  Equestrian competitions a great deal over the other events  is mainly because it is dependant on actual skill over endurance.  Age is not a factor!  In fact, in   the Team Jumping at the Beijing 2008 Games Canada's Ian Millar won the silver medal and he was 61 years old!  How awesome is that?
An additional reason why I've found the Equestrian competitions compelling is because of the apparel used within the jumping competition such as chaps, safety helmets, gloves, and coats.   It is essential that the rider really knows the horse and that the proper attire and horse equipment is selected in order to guarantee both their safety.  It's all very fascinating!
Do you have a favorite Summer Olympic event?
FTC Disclosure: "This post is in association with our friends at www.equstrianclearance.com.
*Picture credited to london2012.com