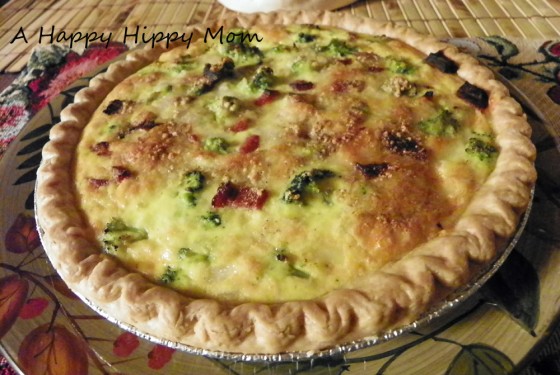 The winter weather has been fairly mild here up until this week.  We received about six inches of snow Friday and the temperatures plummeted from the average 38 degrees to a frigid ZERO!  Cold weather means… I stay inside curled up in my fluffy bunny pajamas watching old Cary Grant movies,  while pigging out on comfort food.  Don't knock it until you try it!
To me the ultimate comfort food is quiche, so I made a delicious Ham N' Swiss Cheese Broccoli Quiche.  I scowered the internet in search of a good recipe and found one at Pillsbury.com.   It appealed to me,  due to the fact,  instead of using half & half cream it called for plain milk.  Half and half on the average contains 12% fat and milk has only about 4%.  In my opinion, the less fat- the less calories- the less guilt I feel from eating the food.  Overall, the recipe was perfect resulting in a wonderful light and silky consistency. Nothing is worse than a watery quiche that is runny and tastes like slime!  This recipe is a keeper and I love how versatile it is.  You can basically add whatever ingredients you like in place of the ham and broccoli. I also added 1/4 cup Parmesan cheese, which gave the quiche additional flavor.  Give it a try!
Ham N' Swiss Cheese Broccoli Quiche Recipe
Ingredients:
1 Pillsbury® refrigerated pie crust (from 15-oz .box), softened as directed on box
1 1/2 cups cubed cooked ham
1 1/2 cups shredded Swiss cheese (6 oz.)
1 cup Green Giant Select frozen broccoli florets (from 14-oz. box), thawed, well drained
4 eggs
1 cup milk
1/2 teaspoon salt
1/2 teaspoon dry ground mustard
1/2 teaspoon pepper
(optional) 1/4 cup Parmesan cheese
Directions:
Heat oven to 375 degrees F. High Altitude (3500-6500 ft): Heat oven to 375 degrees F.
Make pie crust as directed on box for one-crust filled pie using 9-inch pie pan.
Layer ham, cheese and thawed broccoli in pie crust-lined pan. In medium bowl, beat all remaining ingredients until well blended. Pour over broccoli.
Bake 35 to 45 minutes or until knife inserted in center comes out clean.
High Altitude: Bake at 45 to 55 minutes; during last 15 minutes of baking, cover edge of crust with strips of foil to prevent excessive browning.
Let stand 5 minutes before serving. Cut into wedges.