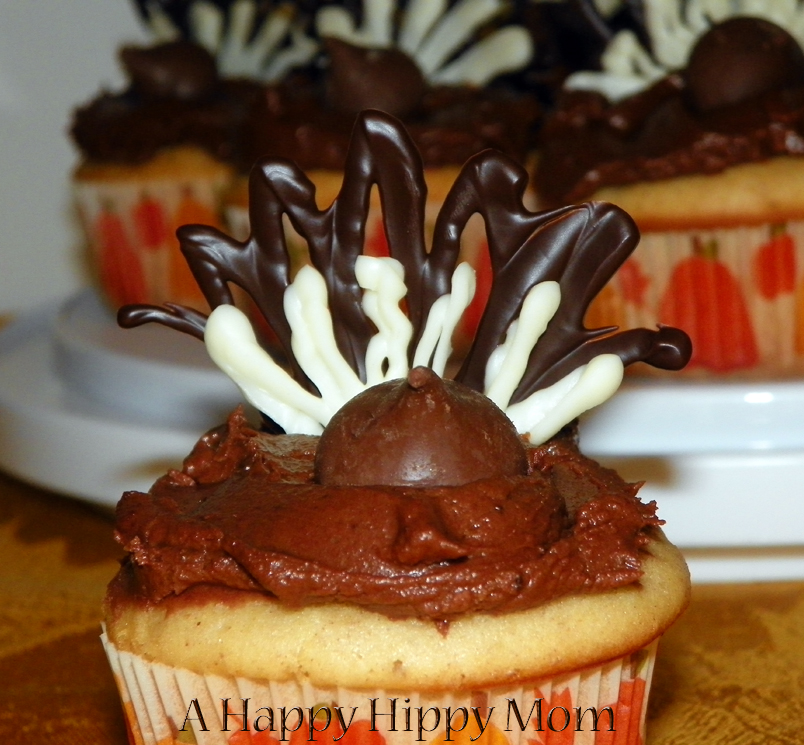 If you like peanut butter, you will LOVE these cupcakes!  This recipe and decorating idea was featured in Betty Crocker Big Book of Cupcakes
.
Peanut Butter Turkey Cupcakes
1 box yellow cupcake mix
3/4 c creamy peanut butter
Decorations
4 oz vanilla-flavored candy coating (almond bark will work)
4 oz semisweet baking chocolate
24 Hershey Kisses, unwrapped
Directions:
Make cake mix as directed on box for cupcakes,  except add 3/4 cup creamy peanut butter with the eggs.  Bake and cool per box instructions.
Make Creamy Chocolate Frosting and frost cupcakes.   Recipe is below.
Line cookie sheet with waxed paper. In separate small microwavable bowls, microwave candy coating and baking chocolate uncovered on High 30 to 60 seconds, stirring every 15 seconds, until melted and smooth.  Place coating and chocolate in separate resealable food-storage plastic bags; snip off tiny bottom corner of each bag.  Pipe coating and chocolate into feather shapes, about 3 inches long and 2 1/2 inches wide,  starting with chocolate first and overlapping with vanilla coating.  Refrigerate coating and chocolate about 5 minutes until set.
When set, peel feathers off waxed paper and insert into cupcakes.  Place a Hershey Kiss on each cupcake for head of turkey.
Creamy Chocolate Frosting Recipe
3 ounces unsweetened baking chocolate, melted, cooled
 3 cups powdered sugar
 1/2 cup butter or margarine, softened
2 teaspoons vanilla
 3 to 4 tablespoons milk
Directions:
Microwave chocolate in small microwavable bowl as directed on package until melted. Cool 10 minutes.
In large bowl, mix butter and chocolate. Stir in powdered sugar. Beat in vanilla and milk until smooth and spreadable.  If frosting is to thick,  beat in more milk,  a few drops at a time.  If frosting becomes too thin, beat in a small amount of powdered sugar until desired consistency is reached.
Happy Thanksgiving!