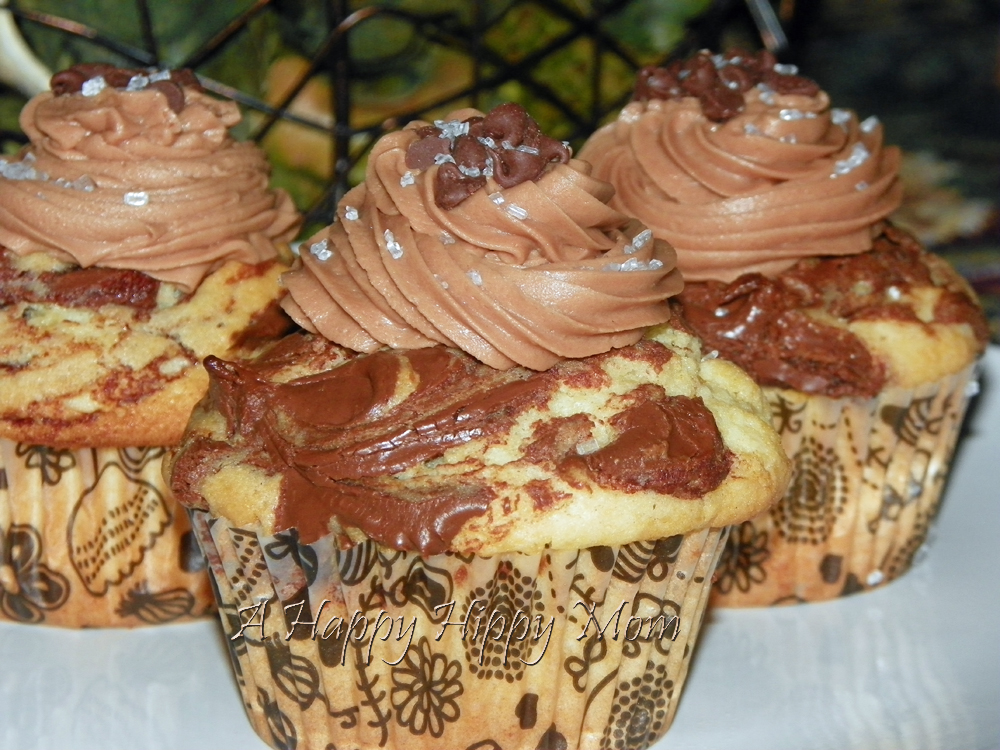 My daughter is a Nutella freak and just loves the creamy chocolaty spread!  She would take a jar of it to school and her classmates would pass it around during lunch and eat it straight from the container.  Probably not the most sanitary thing to do, but teens live for the moment and don't put much thought into that kind of stuff.
I wanted to bake my daughter something special, so I decided to search for recipes using Nutella and found Self Frosting Nutella Cupcakes at Baking Bites.
Nutella Self Frosted Cupcakes
10 tbsp(140 grams) butter, softened
3/4 cup white sugar
3 eggs
1/2 tsp vanilla
1 3/4 cups (200 grams) sifted all purpose flour
1/4 tsp salt
2 tsp baking powder
Nutella, approx. 1/3 cup
Preheat oven to 325F. Line 12 muffin tins with paper liners.

Cream together butter and sugar until light, 2 minutes. Add in eggs one at a time, until fully incorporated. Don't worry if the batter doesn't look smooth. Add vanilla. Stir in flour, salt and baking powder until batter is uniform and no flour remains.

Using an ice cream scoop, fill each muffin liner with batter. They should be 3/4 full, if you're not using a scoop. Top each cake with 1 1/2 tsp Nutella. Swirl Nutella in with a toothpick, making sure to fold a bit of batter up over the nutella.

Bake for 20 minutes.

Remove to a wire rack to cool completely.

Makes 12.
I followed the recipe using exact measurements and the cupcakes came out looking gorgeous.  However, I found them to be way too dry for my liking and they needed a touch of frosting for some sweetness.  I decided to whip up a batch of Philly Cream Cheese Nutella Frosting,  which made them taste even more incredible!
Philly Cream Cheese Nutella Frosting
8 oz Philadelphia Cream Cheese at room temperature
2 tablespoons unsalted butter at room temperature
1/4 cup powdered sugar
2 oz Nutella
In a bowl, whisk together the cream cheese and butter until smooth. Sift the powdered sugar over the bowl and whisk for a few seconds until blended. Add the Nutella and mix until completely incorporated.
Yet, in the future I'm going to use another cupcake recipe instead of the one above, because to be honest they came out having  more of a muffin texture than cake consistency.  I love the looks of the marbled cupcake and think it could be done with any recipe, so use a cake recipe you like and swirl the Nutella into it with a toothpick to get the beautiful effect!