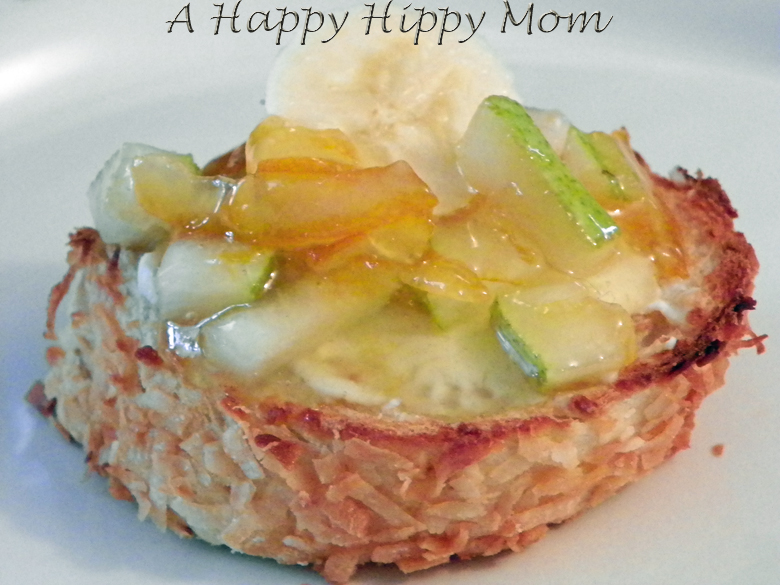 I have been experimenting with a lot of different recipes lately to broaden my palate, so you're probably going to see more good eats posts here on ahappyhippymom.com.  I saw the Golden Breakfast Bruschetta in the May 4, 2010 Pillsbury "100 Winning Recipes" book and it made my mouth water just looking at it!  I followed the directions to a "T" and it came out PERFECT!  The sweetness of the pears, orange marmalade, plus coconut on a bed of creamy cream cheese with a touch of fresh ginger–made my tastes buds dance with delight!  I accompanied it with a glass of hot green tea splashed with a bit of almond milk.  Let me tell ya…it was fantastic!  Give it a try and let me know what you think!
Golden Breakfast Bruschetta
INGREDIENTS:
1 cup flaked coconut
1  Egg
1 tablespoon milk
1 can (11 oz) Pillsbury refrigerated crusty French loaf
1/2 cup  Orange Marmalade
1/8 teaspoon finely chopped fresh gingerroot or dash ground ginger (I grated fresh ginger)
1/2 cup diced fresh pear or 1/2 cup diced canned pears
1/2 cup plus 2 tablespoons reduced-fat whipped cream cheese (4 oz)
1 small banana, sliced
DIRECTIONS:
* Heat oven to 350°F. Spray cookie sheet with Crisco® Original No-Stick Cooking Spray, or line with cooking parchment paper.

* Spread coconut in shallow pan large enough to hold French loaf; set aside. In small bowl, beat egg and milk with wire whisk or fork until blended; pour into another shallow pan large enough to hold French loaf. Roll loaf of dough in egg mixture until thoroughly coated, then roll in coconut; press coconut into loaf. Place loaf on cookie sheet.

* Bake 26 to 30 minutes or until golden brown. Remove from cookie sheet to cooling rack. Cool completely, about 30 minutes.

* In small bowl, mix marmalade and gingerroot; stir in pear. Set aside.

* Set oven control to broil. On cutting board, cut loaf with serrated knife into about 22 (1/2-inch) diagonal slices. Place slices, cut sides up, on cookie sheet. Broil with tops 6 inches from heat 45 to 60 seconds on each side or until light golden brown, being careful not to let coconut burn.

* Spread 1 rounded teaspoon cream cheese on each slice. Spread 1 rounded teaspoon marmalade mixture on cream cheese. Garnish with banana slice and any coconut remaining on cookie sheet.
[ad#Google Adsense-1]