Have you tried  Edy's  new Antioxidant Fruit Bars?  I recently had the chance to taste the Acai Blueberry, Pomegranate, and Goji White Grape fruit bars and they were delicious!  What I love about these fruit bars is that they don't just taste amazingly yummy, but are also good for you too!  The Antioxidant Fruit Bars are made with real fruit and are an excellent source of  Vitamin C, which helps support immunity plus fights free radicals linked to aging and other diseases. Each bar is only 50 calories and a great cool me down snack during the summer heat!
However, Edy's Fruit Bars, known as Dreyer's west of the Rockies, is devoted not just to offering tasty, all natural frozen treats but additionally to doing its part to promote a healthier lifestyle and a greener planet.   In 2010, the company  partnered with the Fruit Tree Planting Foundation an international nonprofit organization dedicated to planting fruitful trees and plants in places that best benefit communities across the world. Together they launched the Communities Take Root, an annual program dedicated to planting fruit tree orchards in deserving communities nationwide.  Their hope is to help alleviate world hunger and global warming by providing fresh fruit to neighborhoods in need , while fortifying areas and improving the environment.  The unique collaboration has successfully planted dozen of fruit orchards across America, and is projected to establish 20 more this year!
Get Involved!
I'm sure you would love to get involved in this awesome cause? You can show your support by visiting www.CommunitiesTakeRoot.com now until August 31, 2011 and by casting your vote for the organization you think is most deserving to receive a beautiful fruit orchard. The top 20 organizations with the most votes will win a fruit orchard provided by Edy's Fruit Bars and planted by the Fruit Tree Planting Foundation. How cool is that! There is Over 100 organizations including city parks, community gardens, educational centers, YMCA's, local food banks, and other establishments that are participating in Communities Take Root this year, so you have a lot of places to choose between! Read their inspiring stories and make the decision who best should get your vote!
$1 off Dreyer's/Edy's Fruit Bars Coupon!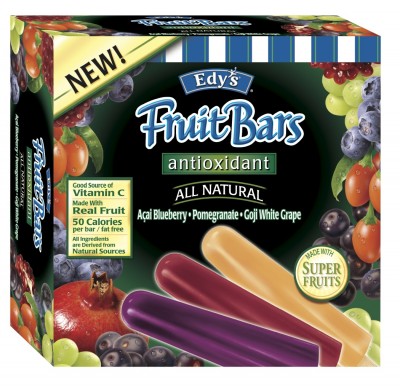 Vote for one of the dozens of worthy organizations competing for an orchard at www.communitiestakeroot.com, and you'll receive a coupon for $1 off  Edy's Fruit Bars.  After logging your vote, you'll receive a link to download the coupon (limit 2 downloads per person, while quantities last).
*Marketed as Edy's® Fruit Bars in the Midwest and East, and Dreyer's® Fruit Bars in the Western states and Texas.
About Nestlé Dreyer's Grand Ice Cream
"Nestlé Dreyer's Ice Cream Company is part of Nestlé USA, and is owned by Nestlé S.A. of Vevey, Switzerland, the world's largest nutrition, health and wellness company.  Nestlé Dreyer's Ice Cream Company manufactures, markets and distributes a full spectrum of ice cream and frozen snacks.  The company's premium products are marketed under the Dreyer's brand name throughout the Western states and Texas, and under the Edy's® brand name throughout the remainder of the United States.  Brands manufactured or distributed in the United States include Dreyer's/Edy's® Grand, Slow Churned®, Dibs®, MAXX, Fruit Bars, Nestlé Crunch®, Drumstick®, Butterfinger®, Toll House®, Push-Up®, Frosty Paws®, Eskimo Pie®, Skinny Cow™ and Häagen-Dazs®.  Internationally, the Dreyer's brand extends to select markets in the Far East and the Edy's brand extends to the Caribbean and South America.  For more information on the company, please visit www.dreyersinc.com.
In the U.S., the Häagen-Dazs trademark is licensed to Nestlé by General Mills."
About The Fruit Tree Planting Foundation
"The Fruit Tree Planting Foundation (FTPF) is an international nonprofit charity dedicated to planting fruitful trees and plants to alleviate world hunger, combat global warming, strengthen communities, and improve the surrounding air, soil, and water. FTPF programs strategically donate orchards where the harvest will best serve communities for generations, at places such as public schools, city parks, low-income neighborhoods, Native American reservations, and international hunger relief sites. FTPF's unique mission, which has been featured in major publications and broadcasts across the country, benefits the environment, human health, and community involvement—all at once! For more information please visit www.ftpf.org."
Disclosure: "This post is in association with our friends at Edy's and Brandfluential

[ad#Google Adsense-1]