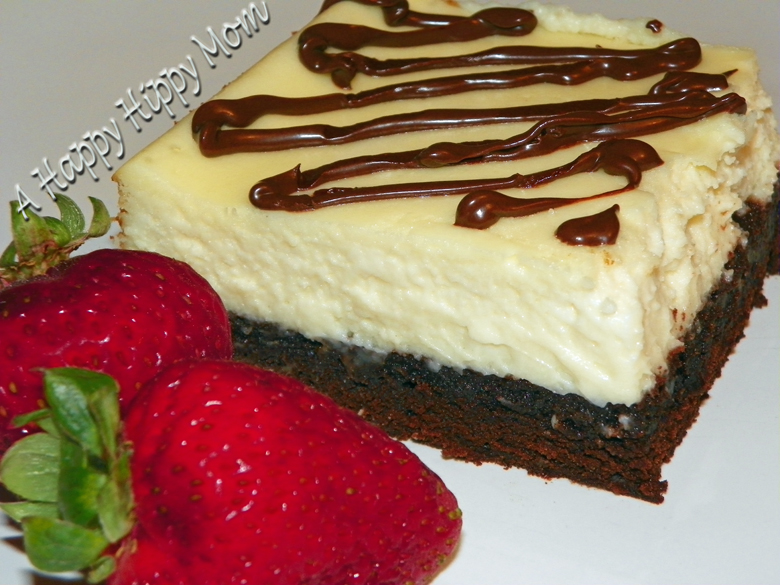 This recipe includes two of my favorite desserts—brownies and cheesecake!   The PHILLY Brownie Cheesecake is extremely rich and I found just a small serving was enough to satisfy my sweet tooth.  Pairing it with a strawberry cuts the richness of the cheesecake and is absolutely delicious.  However, if your counting calories you might want to balance your food choices throughout the day,  so you don't go over your limit and can indulge in this yummy delight!
PHILLY Brownie Cheesecake
1 pkg. (19 to 21 oz) Brownie mix (13 X 9 inch pan size)
4 pkg. (8 oz. each) PHILADELPHIA Cream Cheese, softened
1 cup sugar
1 tsp. vanilla
1/2 cup sour cream
3 eggs
2 squares Baker's Semi-Sweet Chocolate
Directions:
Heat oven to 325 F
1. Prepare brownie batter as directed on package; pour into 13 x 9 inch pan sprayed with cooking spray.  Bake 25 minutes or until top is shiny and center is almost set.
2. Meanwhile, beat cream cheese, sugar and vanilla in large bowl with mixer until well blended.  Add sour cream; mix well.  Add eggs, 1 at a time, mixing on low speed after each just until blended.  Pour over brownie layer in pan. (The filling should come to almost the top of the pan.)
3. Bake 40 minutes or until center is almost set. Run knife or metal spatula around rim of pan to loosen sides; cool.  Refrigerate 4 hours.
4. Melt chocolate squares as directed on package; drizzle over cheesecake.  Refrigerate 15 minutes or until chocolate is firm.
*Recipe credited to Kraft Philadelphia Holiday Desserts book.
[ad#Google Adsense-1]