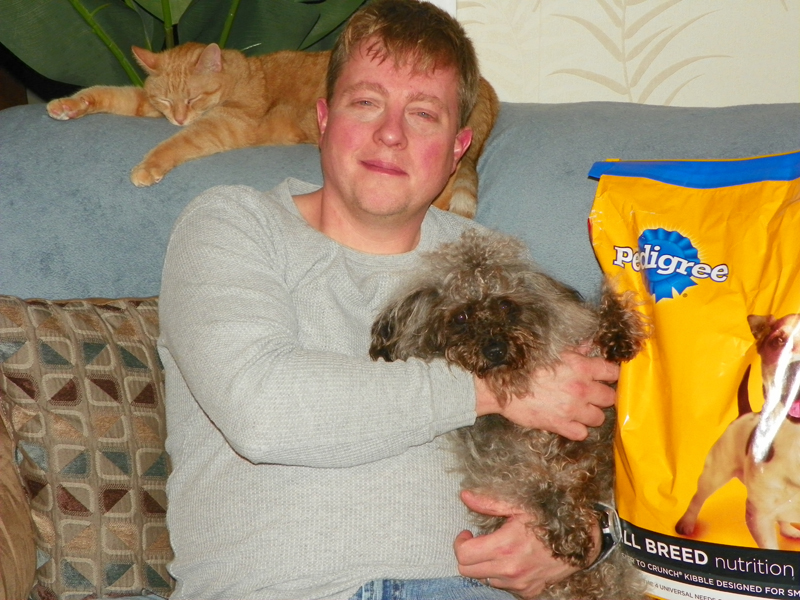 I would like to introduce you to another member of my family named Pepper (the fluffier one in the picture), a precious Cairn Poo who is five years old (36 years old in human years).  My little fur baby has a spunky personality and enjoys long belly rubs, ear scratches, playing with her favorite ball, and most of all…TREATS!  She gives the whole family joy plus companionship.   Just as I worry about my children's nutrition and want the best for them,  I'm also concerned with Pepper's and  like to make sure she is getting the proper nutrients for her age.
Recently, Pep has been chosen as a Pedigree Brand Ambassador and I will be sharing her experience with you on how she is progressing during the program. For the next 6 weeks Pepper is kicking her usual food aside and switching to Pedigree Small Breed Nutrition.   The food is packed with lots of whole grains, antioxidants, Vitamins E & C, linoleic acid,  and features smaller easier to crunch kibble specially made for little dogs.  The transition takes about a week and the new food is introduced slowly to avoid stomachaches and diarrhea.  To keep a happy dog tummy, for the first two days I added about 75% of her old food with 25% new food.  Everything seemed to go smoothly, so the next 3 to 4 days I proceeded to mix 50% of Pepper's old food with 50% of the new food.  Now she is getting  about 75% new food and only 25% of the old food.  Tomorrow her meals will consist 100% of the new food and the switch will be complete!  I think everything is going rather well and haven't noticed any problems.  She  likes the taste of the Pedigree food and isn't displaying any fussiness or showing me her teeth, so its a good sign!
The PEDIGREE Brand has used WALTHAM research as the basis for its recent dog food reformulation.    The researchers at the WALTHAM Centre for Pet Nutrition have recognized an important breakthrough in canine nutrition, the Four Universal Needs of Dogs. These needs are:  Digestion, Skin & Coat, Oral Care,  and Immunity, and were were identified through a review of the Centre's robust body of research studies on the requirements of dogs throughout their life stages—puppy, adult, and senior—for overall health and well-being.  I will be documenting any changes in these areas and sharing the news with you.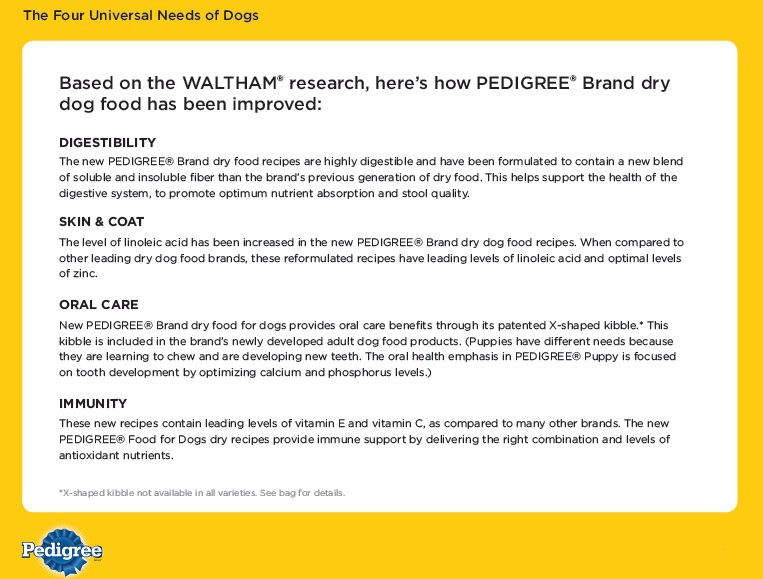 Starting Point…
Digestion:
Pepper has had some digestion issues in the past.  It doesn't happen often, but when it does its a real big concern.  She  goes outside to do her business twice a day and most the time its normal.  However, there are occasions when her stool is overly loose and I get worried she has eaten something she shouldn't have.  To be honest, the stomach upset could have come from the treats or small morsels she finds and not her actual meals.  I will be eliminating the treats during the six week program and watching that she only eats the Pedigree food, so I can monitor the situation better.  What I would like to see improve is that she receives maximum absorption of the nutrients without any stomach upset and normal, healthy stools.
Skin & Coat:
The skin and coat serve as the overall health status of the dog because it is the dog's most metabolically active organ.  Pepper doesn't shed much, but she does have dry skin and a dull coat.  I would like to see her  have a shinier coat  and the flaky skin improve by the end of the six weeks.
Oral Care: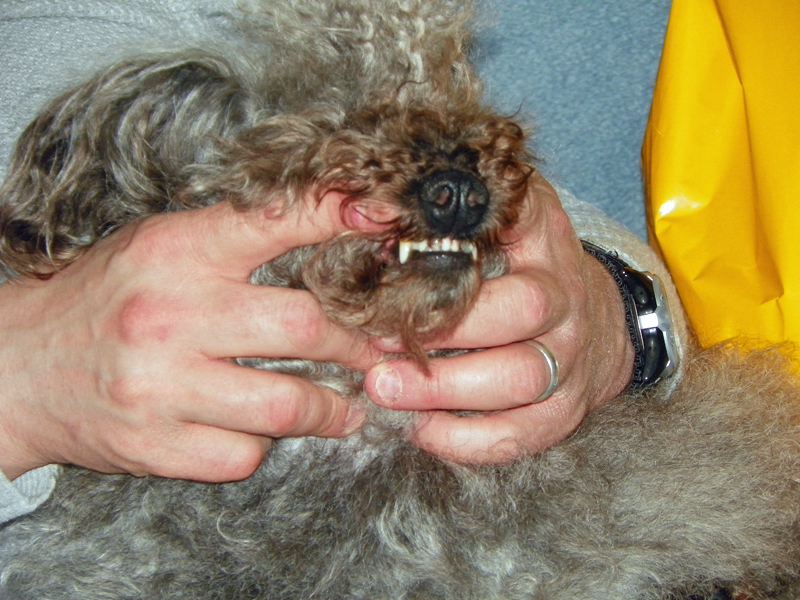 It's critical to Pepper's overall health and well-being to have healthy, clean gums and teeth.  According to Pedigree, gum disease is the number one health issue for pet dogs today, with 4 out of 5 of dogs developing some degree of gum disease by the age of three.  If left untreated the effects of gum disease can cause serious diseases such as kidney, heart, and liver disease.  Pepper is age five and her gums and teeth look pretty healthy. Nevertheless, I want to make sure they stay that way and  I hope the new food helps keep away cavities, gingivitis, plaque and tartar.
Immunity:
In the five years of owning Pepper I have never seen her seriously sick.  THANK GOD! As she gets older my concern for her immune system increases and I want to make sure she is getting the correct nutrients to keep her immunity functioning properly.  Key nutrients, such as copper and zinc, have demonstrated the ability to strengthen dog immunity along with Vitamin E,  which has been found to  block free radicals from increasing.  Feeding her an antioxidant enriched food like Pedigree will help keep her body systems functioning normally and strengthen her immune system.
Keep Watching For Updates
I'm very excited about Pepper being a Pedigree Brand  Ambassador and can't wait to share with you about her progress! Watch for my next update coming in two weeks!
Check It Out!
@PedigreeUS on Twitter
Pedigree Adoption Drive Facebook page
"I wrote this review while participating in an Ambassador campaign by Mom Central Consulting on behalf of Pedigree and received dog food to facilitate my reviews and a promotional item to thank me for taking the time to participate."
[ad#Google Adsense-1]