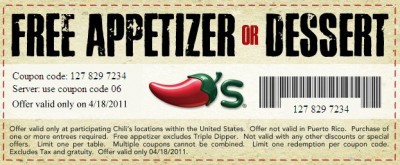 Whether the IRS 'gave to' or 'took away' from Americans this tax season, Chili's® Grill & Bar is celebrating the end of another number crunching, headache riddled time of year by treating guests to a special deal that won't break the bank. All day during normal business hours Monday, April 18, Chili's is offering a free appetizer or dessert with a purchase of an entrée, at participating locations nationwide.
Start off with an order of Chili's famous Southwestern Eggrolls or Boneless Buffalo Wings, or skip straight to dessert with a warm Brownie Sundae or a decadent Chocolate Molten Cake. Whatever the mood, Chili's guests have an array of choices sure to curb their appetites.
To take advantage of the tax break offer or share with your readers, simply click here to open and print the coupon. Guests may also redeem the special by displaying the coupon code on their smartphones to servers. The offer will also be made available on Chili's Facebook page and Twitter account Friday, April 15 and Monday, April 18. Here is the direct link for the coupon: http://on.fb.me/ed0Gjt.
*Guest post from Julie F via email
[ad#Google Adsense-1]