In anticipation of  tomorrows release of You Again on Blu-ray & DVD, I have been given the wonderful opportunity to  present you with these Q&A interviews with Kristen Bell, Jamie Lee Curtis, Sigourney Weaver, Andy Flickman and Odette Yustman. What was it like working with Sigourney and Jamie Lee Curtis? Why did you cast Betty White? What attracted you to You Again? Find out the answers to these questions and more!
An interview with Andy Fickman, director of the hilarious YOU AGAIN, starring Kristen Bell, Sigourney Weaver and Jamie Lee Curtis. The uproarious film focuses on Bell's character Marni who is horrified to discover that her brother is about to marry Joanna, the popular girl who made her life a misery in high school. Full of physical comedy, music and dance, plus great performances from a stellar cast, it is entertaining and upbeat from start to finish.
Q: You have a fantastic cast?
A: "It was a dream cast. Jamie was the first person I sat down with to discuss the film. I drove out to her house and we immediately started to focus on her character and what we wanted her to be. Then we asked ourselves who would be great opposite Jamie? Sigourney was our top choice. Jamie is so strong and we needed another strong woman. So Sigourney agreed to a meeting and sat down in my office. I really did by the way have ALIEN memorabilia and stuff up on the wall, old dolls. I loved the ALIEN films.  I kept thinking, 'oh no, I hope she doesn't turn around and think I'm some stalker fan' (laughs).  But she never did, thank goodness. And she came on board. This was a rare case in which I managed to put together a cast with all my top choices. I've had Kristen Bell in my life for ten years, we get on so well, and it's like working with my sister."
Q: What's the story all about?
A: "They handed the script to me and said 'it's a bit of a chick flick,' and I said 'ok.' The last one I did was with Amanda Bynes: SHE'S THE MAN. I read YOU AGAIN, and I didn't read it as a chick flick. I personally connected with it because everybody has someone from their past who bullied them, or who they didn't like.  It doesn't matter how old you are, there is a name from your past in school who you wouldn't necessarily want to see again. I remember I called my mom, who can't remember what tomorrow is, she is so forgetful and I said, 'Mom I am doing this movie. Was there someone from your past who was mean to you?' In seconds she named a girl from her class in 1951 who had upset her at the prom. I said 'Mom you can't remember dinner but you remember that.' And she said, 'I never let it go.'"
Q: Did your cast also relate to the premise of the film?
A: "When I met all the actors on the movie, everyone had a story. And that is when I realized how universal the theme was. Sigourney would talk about not going to her high school reunion because there was a girl who would be there who bullied her. I said 'you're Ripley, you became Sigourney Weaver the movie star. Why would you worry?'  But in your mind you can't let it go, and I think that's what really connected for me, because I thought we carry high school experiences around with us, and then sometimes it is good to let them go. With Facebook and social networking more people from my past have found me than ever before. I sometimes think 'I don't like you, and I didn't like you in high school' and they are writing 'Fickman so great to hear from you.' They want to be Facebook friends. It's sometimes very cathartic to get in touch because you realize 'okay I don't have to hate you anymore.'"
Q: Can you discuss Jamie's and Sigourney's characters?
A: "I discovered a lot about Jamie when I went to go and meet her at the house. Jamie is the mom and the housewife, and I think she approached the character that way. Jamie is a beautiful sexy woman—the crew were going crazy because there were beautiful women everywhere—and we would play with Jamie to downplay her sexiness a little bit, because she always looked great. And even Sigourney, who is the glamorous character would say: 'well I'm competing with Jamie who is gorgeous.' But Jamie's character feels like she has once been the prom queen, now she isn't. There are elements of the prom queen that still exist but we had to tone them down. She could not be as glamorous as Ramona. Sigourney's character Ramona meanwhile left school and became fabulous and glamorous. I looked though her wardrobe (of costumes) and every outfit was really fabulous. And Jamie looked like she had walked into the Gap. It's a t-shirt and khakis costume.  And she still looked great."
Q: Can you discuss the singing and dancing in the film?
A: "Well I do a lot of musicals so it's something I really like. We had so much fun making the movie, and there was so much singing and great talent. Kristin Chenoweth is on Broadway now in PROMISES PROMISES; half of our cast could be in Broadway musicals. So when we started talking about music it just became very natural, and by the time we got to rehearsals, every day we'd be  dancing  or singing or doing something fun and energetic,  and it just became part of the making of the movie."
Q: What was your high school time like?
A: "Elementary school was fun for me, junior high school was miserable, every picture of me from that time is bad. Every girl I liked didn't like me, I was in the wrong club, in the wrong everything. By the time I got into high school, I really started to find my way with theater and I got popular quickly, because of the  shows I was doing, I became a student officer and ended up loving high school. But there were still people I knew from junior high school who had been my tormentors. And now if I am at a party with them I am conflicted: do I pretend that didn't happen?"
Q: Would you deal with it all differently now?
A: "That is a very good question. I would probably do a lot of the same things. I think I would be superstitious enough to repeat things, because of where I am now. There were certain things I would maybe do different in junior high school though. I just couldn't have made any worse decisions. Guaranteed I would wear an outfit that was so bad you would not let anyone you knew walk out of the house in it. My mom would say 'really, you're going to go out wearing that?' I would reply:  'I sure am mom, it's a ruffled tux, everyone's going to love it.' And then everyone would say 'why are you wearing a ruffled tux in the middle of the day?' I thought I was cool. But I was not a trendsetter."
Q: Can you mention the cameos in the film (we won't give them away, but they are great)?
A: "I would say in general for the cameos we went out of  our way to make them fun. At the time we were filming we had a who's who of people wanting to join in. That made it fun because we already had such a great cast and then we were adding the cameos. I've never done a movie where I was able to have that many."
Q: Why did you cast Betty White?
A: "When I read the script, I just thought of Betty White. I actually referred to the role of the grandma as 'the Betty White role.' And then nobody stopped me, the more I kept talking about it, I would talk about 'the Betty White role,' so   we thought we should actually offer it to Betty White herself. We  did, and it was a dream, she was everything that you would want, so much so that during the filming, whenever she would arrive on set, everybody would be excited and say 'oh Betty's here' and about four times a day during filming, I kid you not, I would  stop for a burst of energy and announce to everyone: 'Ladies and Gentlemen . . .  Betty White' and the cast and crew would give her a standing ovation for five minutes. Everybody was so honored to be working with Betty.  She is 88 years old and never complained. Betty had incredible energy. At 4 o'clock at the morning Betty is wide awake."
Q: And she did her own stunts a lot of the time?
A: "Yes we were getting ready to do the stunt we did in the big  dance scene    and we had a stunt double for Betty. As you can imagine you are not going to find an 88-year-old stunt double, so we had a young girl who was putting on the wig and getting ready.  So   Betty's watching her and we've got the harness ready, and Betty says:  'who's she?'  And she says  'put me in the harness.' So our stunt team who have done all the BOURNE movies is looking at me saying 'are you sure?'  But she wanted to do this difficult stunt herself. So they harnessed her up and we literally had to crank her back and swing her across the room. We have three cameras going, and Betty is full of energy, and I look at her and give her a chance to back out and she says 'won't you feel horrible if you're the one who kills me?' (laughs), and then she swings across the room. Meanwhile I can see the headlines . . .  'Andy Fickman Kills Betty White. Betty White Dies in Tragic Accident on Film Set.'  But it all went well.  Betty is just great and had more energy than any of us. We should all be so lucky."
Q: How did you get Hall & Oates to participate, they are great in the film, actually playing their music?
A: "We did a hit list of the music we thought would be fun for the film. We wanted a retro band that people love. We went through a lot of bands and nobody was inspired. One day we just said:  'what about Hall & Oates?'  Everybody looked up and said, 'ooh we like them.' We then had to find Hall & Oates, because, without giving too much away, they have a significant plotline in the film. They were on tour at the time, and they changed the tour in order to come in and film with us. The day they came in we had the full cast of the film on set with hundreds of extras, and it was like a rock concert. They were on stage, setting up and tuning, and then when they appeared, all the reaction shots we used in the film were real, everyone was so excited, and it truly was remarkable because there was such a good atmosphere. The cast were excited about meeting Hall & Oates, and Hall & Oates were excited too, they were saying: 'can we meet Sigourney Weaver and Jamie Lee Curtis and Betty White?'   And I said 'sure . . . Hall & Oates meet our cast.'"
Q: Finally what can people expect who have not yet seen YOU AGAIN?
A: "We hope they will enjoy the film and that they find it joyful with some great laughs and some heart. If they are smiling at the end and had a good time, then we all did our job."
Q&A With Jamie Lee Curtis & Sigourney Weaver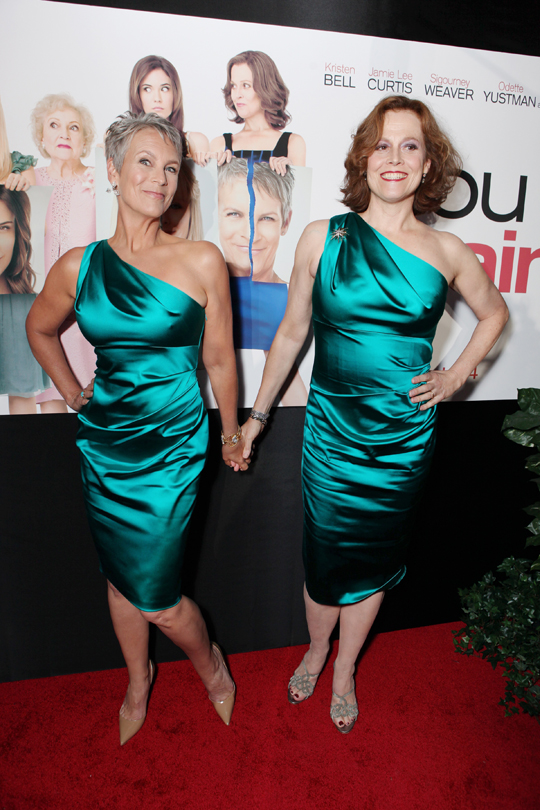 Jamie Lee Curtis
Q: What was it like working with Sigourney Weaver?
A: "It was great, a fun time. Sigourney and I did not really know each other at all before this film. She plays my nemesis.  And we are perfect opposites in real life. I am from the West Coast, the daughter of movie stars (Janet Leigh and Tony Curtis).  I am uneducated (laughs). Seriously, I am. If you think I am intelligent it is all fake. She is from a respected journalistic, intelligent, intellectual family. She went to Yale and she speaks 20 languages. She runs a theatre. We just could not be more different.  And these two women we play could not be more different people. We met at the rehearsals and had a great time together."
Q: So what was it like acting with her and being with her?
A: "It was great. Her process is very different. She is very detail oriented, she does a lot of background work, that is her process. And I just walk in and ask:  'what is the common denominator?'"
Q: Did you two bond right away?
A: "We did.  I just think, honestly, bonding with someone is all about sharing difficulties in life and discussing them with each other. You start talking about things that are challenging in your life and you find that other people have the same challenges or similar ones or they can identify with you or they have something in common. My son, who has all sorts of interesting challenges in his life, ran for office in his school and he didn't win. What he said was impressive although I am sure he heard it from somebody else. He said, 'you know, there are a thousand lessons in losing and only one lesson in winning.' I think that for the most part, when we meet, most of us find that the common link is a difficulty we have shared.  If I have a kid with some learning issues, and I am talking to someone and discover they may have a brother with learning issues too, boom, we are bonding and then the next thing you know we are off in a corner going 'What did you try?  Did you try this?' – 'Oh yeah – I tried that.' 'Oh yeah.' The next thing I know, we are saying:  'I will see you tomorrow' and  we have connected about something that is a challenge."
Q: What attracted you to YOU AGAIN?
A: "The first thing was that it was being shot in Los Angeles last summer for six weeks.  So I did not have to leave home (laughs). Also I got to work with all these nice women. It was funny. And it was for Disney, a company I have already worked with. Also I thought the story was very cute. Andy Fickman (the director)  is great and seemed like a nice guy. They paid me a little bit too!  It was such a nice group of people and a lovely funny movie, shot in L.A. That is rare."
Q: Did you relate to the character at all?
A: "I didn't relate to the fighting part of the story. I could relate to the idea of seeing someone that you used to know and having some sort of history with them.  And I knew Disney would do a great job with it. I thought all the other actors were funny. Betty White is in it—how could that not be fun, to work with her?"
Q: When was the last time you ran into someone from your past?
A: "I meet so many people telling me mostly how much they love Activia yogurt, so I never know if they are from my past. (She is the spokesperson for the brand.) I've been in a lot of movies. And I'm the daughter of very famous people. I'm also married to a very famous guy. And I do a lot of things—acting and books. But nothing else in my life gets people coming up to me saying, 'You've changed my life. Because of you and that product, my life is different.'   People   just walk up to me and  say  'I love your Activia. I am a convert. And I swear by it.'  This happens to me all day long.   If someone runs into me and says  'we went to high school together' and we didn't, I go 'really, where did we go to high school together?'  They go 'Newark.'  'Really?'  It is that weird fantasy where people   think they went to school with you. Guys will say, 'hey, we were dating in high school.'"
Q: How would you describe your character Gail?
A: "She was a high school friend of Sigourney Weaver's character Ramona. I was the class president, the head cheerleader and prom queen and there was a little rivalry between them, and Sigourney arrives on the eve of my son's wedding."
Q: How authentic is the story and premise?
A: "Gail has a line in the movie, she says:  'No one gets out of high school unscathed.' It really is the truth. There's not a human being I've ever met that had a good time in high school, or that didn't have a rough patch. Gail's daughter Marni is thrust back into her high-school self when she sees Joanna."
Q: Is there a theme do you think to this film?
A: "With every relationship there is the old golden rule:  do unto others as you would have them do unto you. I don't go into a comedy looking to have a big message. I look to see if it will be funny and what I can do to make it funnier. If somewhere in it there's some essential truth, then that's a lovely by-product of the storytelling, but it's not what I set out to do. Honestly, I just thought it was fun."
Q: What group were you in at high school?
A: "I was a cheerleader. I was kind of middle of the road. I went to a girls' school. I was a good girl. I still am. I just wanted to fit in. I still do."
Q:  Can you talk about your character's style? Gail is not the stylish one like Sigourney's character is she?
A: "What about the lovely dress I wear for the wedding? (She turns up wearing the same dress as her rival.) I love it.  I actually find wardrobe the most satisfying part of being an actor, finding clothes that actually suit the person rather than just choosing what necessarily looks good on me. I love the idea that you go to specific stores they would pick. I remember when I did the movie HALLOWEEN  thinking 'I am a girl from the Midwest' so I said—'let's go to JC Penney' (department store). So we went to JC Penney and we bought her entire wardrobe there. It was the skirt and the little separates that matched, the knee high socks with the loafers. I put that outfit on, and immediately I felt like that person. For Gail in YOU AGAIN I knew she shopped at Talbots (clothes store).  I knew exactly where she shopped."
Q: You look fantastic and have always been known for your great figure as well as your acting. Are you confident about your own looks and style?
A: "I appreciate that, but I don't feel that at all.  I just don't.   I just cannot look at these women's magazines with pictures of these glamorous women. I cannot look at them. They make me feel bad. My husband, who is a very smart guy doesn't buy into anything in show business at all. He said to me once. 'You should see your face, when you are looking at these magazines.'  I used to buy all these magazines when I was traveling, I would just buy them all. But he said:  'your face changes. You have a happy face. When you are with your family, you are happy. Then you look at these magazines and you get this look of sadness when you read them.'  We all do.  Every time we see a picture of Angelina Jolie, we are like 'oh . . . what is the point?' She is so beautiful."
Q: You have become a trendsetter by keeping your hair gray.
A: "That will change, too.  It is obscene what people are doing to themselves.  I just know that women by nature put themselves down.  I don't wake up and go, 'Damn, I am looking okay.' But I am trying to be realistic about who I am.  My mother was from that generation where looks and staying thin was your commodity.  But you have to remember if your body is your commodity you're screwed, because your body is going to change.  Women surgically change themselves, trying to stave off the very natural evolution of the human body.   Women's bodies age the way they do to protect their bodies.   There is a reason why we get fat in certain places."
Q: What do you do to stay healthy?
A: "I do the same things everybody else does. I eat well. I don't drink. I exercise moderately. I play a little tennis with some girlfriends a couple of times a week. I walk a little bit. I have dogs, so I walk with my dogs around my block. I don't run. I've never run a mile in my life.   My mother was a natural beauty. She was thin. I watch what I eat a lot. I don't eat bread and cake. I am that person who used to like carbohydrates, and I have just realized that that is not particularly good for me any more. I don't metabolize bread like I used to. But I am not a maniac. I was out in a beautiful restaurant last night in the mountains and they had beautiful bread and butter and salt, and I was like 'yeah!'  I eat moderately. When I have a pair of pants that are a little tight I watch what I eat a little more. Then if I put on my pants and they are falling off, I am happy, and I go  'Hey, let's go.'"
Q: Apart from acting are you still enjoying writing children's books?
A: "Yes I am, and the latest one is called "My Mommy Hung the Moon."
Q: Would you write for adults?
A: "No, that would involve too many words. I write for kids. There are maybe fourteen words in the whole book. That is perfect."
Sigourney Weaver
Q: What attracted you to the role of Ramona?
A: "I thought it was interesting to play Ramona's idea of what's powerful, which is all about being glamorous and easy and breezy. She wants so much to convince Jamie Lee's character that she has made it. But really, the person she needs to convince is herself. I think Ramona is trying to compensate for her past lackluster years and rolls back into this town determined to convince everybody that she has it all and never has a vulnerable moment; she is trying to be perfect. I know people who are like that. It is a lot of work. I think it is great that she finds out that ultimately it is not the answer. When we meet her, she has this chance to convince everybody that she is invincible.  I was very touched by my character, because she was a loser in high school and I related to that."
Q: How exactly?
A: "I was this tall ( almost six feet tall) when I was 11 so I went into an all girls high school feeling so self conscious, so painfully awkward and clumsy. What I would do was make fun of myself before anybody else could— I just kept making people laugh and that was my way of surviving."
Q: Were you ever bullied in high school?
A: "I was, there was a girl who was horrible and I still don't know why. She was mean to me. I have a feeling she'd still be mean to me. I was such a loser in high school and I cannot understand why anyone would be wasting time being mean to me.  I used to think:  'you've already won, why even bother?' Even to this day, I don't trust that person. She seemed crazy then and why wouldn't she seem crazy now?"
Q: What did she do to you?
A: "She was cold. She was my best friend one day and really mean the next day. I only had that one bully I have to say."
Q: What was high school like in general?
A: "I feel fortunate because a lot of the people in my school were very nice to me, I think out of pity. They took me under their wing. So I got to hang out with a lot of cool people eventually. I got a little cool. Then I married a very cool guy, (theater director Jim Simpson) so now I feel like I may never be cool but I can just hang with the cool people (laughs)."
Q: But surely as the very first female action hero in ALIEN—it can't get any cooler than that?
A: "Thank you. I try to see it that way (laughs). But I think in high school everyone cares about being cool and the longer you get away from high school, the more you realize it does not matter and that is what resonates about YOU AGAIN. The story did resonate with me because I had this awkward high school experience, like everyone has."
Q: You were a late bloomer?
A: "I was and I really believe that late bloomers are better. I just feel like it is so much easier to grow into yourself. Your choices end up being more interesting. My dearest friends and I were all such a mess for such a long time. I just want girls to know that if you feel like I did, that does not mean that you are going to be a mess forever. It will all work out. I feel there is a lot of humanity in this story, which says: 'it is all going to work out, you don't have to be pretending to be something other than you are.'  There was nothing that did not appeal to me about the movie. I liked it a lot. In spite of what our society says about youth being better, I'm sorry—it's not true. Youth is not better than being my age. Being my age is awesome."
Q: Is it harder for teenagers now do you think, particularly girls?
A: "I just think girls want to be recognized for their brains and what they can do in the world. There is also a lot of confidence in girls, they want to be who they are."
Q: Ramona looks fabulous, were the costumes fun to wear?
A: "I love the costumes with all the jewelry and scarves and all that stuff, all the accessories. I am a person who goes out without a purse. I put things in my coat pocket and I don't have any accessories, whereas she's nothing but accessories and I loved having all of that stuff in the film."
Q: You have an amazing dance sequence in the film (samba) with Kyle Bornheimer (who plays Tim), what was that like to film?
A: "It was so much fun doing the big dance duet and rehearsing with Kyle. Neither of us knew anything about the samba. So we really worked hard on it. I've never been at a dance rehearsal where you practice and practice and practice."
Q: There are a lot of French throwaway lines in this movie because Ramona is keen to show how she is sophisticated and so European. That must have been fun because I know you speak French?
A: "That is really the only language I know and that I can improvise in. I don't know any Spanish unfortunately. I grew up spending a lot of time in France, and my best friend is French, and I have done a couple of movies in France. But I wish I knew Spanish, Italian and German."
Q: What was it like working with Jamie Lee Curtis and the rest of the cast?
A: "I had never worked with Jamie before and that was a big part of the appeal. She's such an amazing woman. It was really fun to hate her because I really love her. We'd met before and we've worked with a lot of the same people.  It took YOU AGAIN to put both of us in the same movie because we wouldn't normally be, it would be one or the other. The cast was a big attraction for me, to work with not only Jamie, but Betty White and Kristen Bell and the others. Kristen is such a consummate performer. She's got incredible timing and I think she's  one of our great young stars. She and Odette worked beautifully together."
Q: You look fantastic, are you very disciplined about eating and working out?
A: "Well, you have to not eat certain things that you liked. You have to go to the gym. You have to be a grown-up about it, which is hard (laughs). That is why we want comfort food, so we can be kids again. I feel like I could lose ten pounds, but I'm certainly not going to kill myself over it.  I want to live, I want to enjoy my life. I want to enjoy food. But I try not to eat unconsciously. I've learned that from my European friends. They taste things. I love the way Europeans are sort of slow, they talk about food, and food is an experience. It is not just fuel. Here we kind of stop at a gas station, fill up and keep going. It is not conducive to health."
Q: How important is it for you living in New York rather than LA, where people are quite obsessed with age and outer beauty?
A: "That is very important to me. I don't live here in LA.  I would not feel comfortable here, because I think our job is to play a variety of different humans. I like seeing older women. I cut out pictures of older women that I see in newspapers, who are so alive and clearly know so much and have lived so much. Why would you want to look like you have not lived? Why would you want your face to be frozen? I don't get it. On the other hand I feel that every woman should do what will make them feel all right. I think there is a lot of pressure in our society to look young, but who are you kidding? How can you ever look the way you looked when you were 20 if you cannot move your face?"
Q: How much was your mother an inspiration for you? She was the first runner in Central Park I believe and was very athletic?
A: "She was formidable, actually. My mother qualified for Wimbledon at the age of 16 but her father would not let her play because he said, 'it is a rich person's sport. I don't want my children playing those sports.' For the rest of her life she played awesome tennis. She was an amateur champion in club after club. Then she was a very serious golfer. You wouldn't want to play a casual round of golf with my mother. She was intent on winning. She was very competitive. Really, she should be sitting here not me, she was a great inspiration. My parents were always fit. My father went waterskiing. In his briefcase he carried a pen and his swimsuit, wherever he went. He went swimming in every body of water he could. So they had that and that was a great thing for me, because I could see that you were not supposed to sit on the couch and eat potato chips. You are supposed to get out there and move. I think that is education."
Q: What was the turning point in your life and career would you say?
A: "I think probably my marriage and motherhood. I was trying to have a baby for a long time and finally had our beautiful daughter at 40. I just love  being a mother. It is hard work. Also I was lucky to have a wonderful husband who then took time off from his work. She always had one parent right on her. I think those two things meant everything to me. Having a family is such a nice balance to our profession."
Q: As the first female action hero, how do you feel about modern women action heroes?
A: "I probably don't see all these action films, but I feel so lucky that I played someone (Ripley) who was a real person.  The women nowadays still have to be great actors because action movies are much harder than they look.  But I was doing action when women were finally taking on a lot of men's roles in real life, a lot of jobs with machinery and stuff that really had been off limits to us. Suddenly Ripley was this ordinary woman who was put in these extraordinary circumstances and she had to figure it out without being the damsel in distress. So I benefited from the timing of that. I am glad that I got to play someone I could totally relate to. Now there is such an element of fantasy. You not only have to be strong and brave but gorgeous and in high heels and doing impossible things. That is a very different challenge compared to what I had to do. All I had to do was play the part."
Q&A With Odette Yustman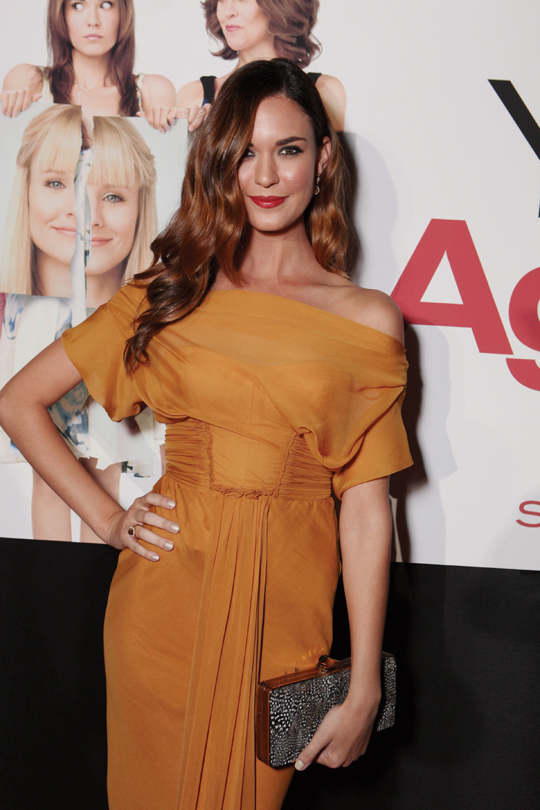 Q:  How much fun was it playing the mean girl?
A:  "It was so much fun.  I've never been able to play a real character before now, all of my other roles have been more like me.  I could see myself in a lot of the other roles that I've played, but with this part I really did have to dig deep and I drew inspiration from some mean girls in high school. (laughs). It was very different and very challenging."
Q:  Were you actually bullied in high school?
A: "I was bullied by one particular girl.  I don't know why.  I think she had to make other people feel bad in order to feel better about herself.  I think ultimately she was probably insecure and she had a lot of things to deal with and she just threw it on other people because it was easier to do that, but let me tell you, I still think about that."
Q:  Has it affected you as you've grown up?
A:  "Sure and that's why I think a lot of people are going to be able to relate to this movie. Even Betty White's character confronts the person who once bullied her.  I was talking to my grandmother and I asked her:  'did you ever have anybody that bullied you?' And she said,  'yes' and she named the girl. You never forget about these women who were horrible."
Q: Why were you bullied? Was it jealousy, do you think, because you are so pretty?
A:  "No people could pick on me for a lot of reasons. I was really, really skinny, and when all the girls were starting to get their curves and look more like a woman, I had nothing.  It was not happening.  It never really happened but that's okay now because I'm more confident and I know that it doesn't matter. But girls are just at that age when they are bullies,  at least some of them!"
Q:  What did the main bully say?
A: "She said, 'you haven't developed.  Oh, you don't have any boobs.' She would say things in front of a boy that you like or you have a crush on and that's the worst feeling.  You go home and you are thinking:   'oh, man, he's never going to talk to me now.' It was upsetting."
Q:  Have you ever met up with her since school?
A:  "No but maybe I will.  The last time I saw her she was still mean and I thought 'wow, after years how can she still be mean?'  I went to a different school and then I saw her again and she was still catty and I thought 'wow, this girl's never going to change' so maybe now I will say to her: 'did you see that movie that I was in?' (laughs) Would I forgive her? I definitely don't forget, but I do forgive. I think that everybody deserves a second chance, so if my high school bully would apologize,  I would accept that apology.'"
Q:  Can you talk about working with Kristen Bell?
A:  "It was so much fun.  Kristen is a riot.  She was my partner in crime during the movie and we were willing to have a great time and go there and be as mean to each other on screen as we could and poke fun at each other and then just be really great friends after shooting. That's a testament to who Kristen is as a woman.  She's just lovely and great and really kind of perfect. I always say if she could rule the world, the world may be a better place.  I think she's very wise."
Q:  Do you think the competitiveness between girls—like your two characters—continues in later life, for example in Hollywood?
A:  "It's interesting, yes there's a lot of competition in this town.  I feel like all the prom queens and all of the most popular girls end up in Hollywood, and that's just chaotic and it's difficult.  There's always a girl who's more prepared than you who seems to have 'the look', but you have to go into auditions knowing that you are confident and that you have something to bring to the table yourself.  If not, you'll go crazy in this town.  The rejection is so ridiculous because you walk into a room and you see so many beautiful women, and you think that they're probably better for the role and you get insecure. But at the end of the day what's meant to be is meant to be and if a role's going to be yours, then it's going to be yours.  I wanted this role so badly and I knew the only thing I could do was work hard, be prepared and  be professional."
Q:  Why did you want this one so badly?
A:  "I think because it hit home. First of all, it was so well written and it's so relatable.  I had that experience in high school and also I loved that this character was able to redeem herself, so there was a little bit of hope and it's a great family story too. It is a comedy, which I haven't done before and I really did want to do a romantic comedy. I loved it, now I just want to do more.  So hopefully this will open more doors for me."
Q:  Can you talk about working with Sigourney Weaver and Jamie Lee Curtis?
A:  "It was incredibly intimidating at first.  I was acting with Jamie Lee Curtis and Sigourney Weaver, I mean, come on—they're huge stars. You hear that some big stars are big-time divas and they're not so nice, and then you hear about the ones that are really great and really wonderful. I lucked out.  They were both great to work with and easy and lovely. They challenge you as well and they make you better, and they're so generous, so giving and helpful."
Q:   Did you get any advice from them or was there anything specific?  Were they role models of yours?
A:  "They became role models of mine.  Working with them was great because I found that they are normal people.  Jamie's a great mother and she would always give me the advice to be myself and to know that there is going to come a time when I will want to have a family. There was a lot of family talk with Jamie and Sigourney. Jamie told me that I will be pressed to make choices about the direction of my career at some point: should I do this film or that one? And she said you're just going to know.  I told her about my fears of doing comedy and she said 'don't push it.  Don't try to be funny, just be who you are and you will be funny.' So that's good advice."
Q:  You look fantastic, do you work out a lot?
A:  "I hate working out.  I despise the gym.  I really, really do, so I have to find a balance with exercise. Hiking with my dog is the best way for me to do that while real estate browsing, so I will go up in the canyons and look at the beautiful houses. That way I get to dream while I work out, so I am sort of tricking myself."
Q:  What about eating?
A:  "I really try to eat well.  I'm very lucky in the sense that my parents started gaining weight in their late thirties and so I feel like I have a couple of years to just really go for it and eat a lot. I come from a big Cuban family so I cook a lot of Cuban food, but I   try to eat a lot of veggies and greens.  I do get a hamburger once in a while though."
Q:  You're Cuban, are you fluent in Spanish?
A:  "Yes, I'm fluent in Spanish and I recently went on an audition that was all in Spanish, and that was really fun and I would love to eventually do a movie in Spanish."
Q:  Do you do any modeling?  You have a lovely figure.
A:  "I did for a little bit but nothing much to talk about.  Some department-store ads here and there but it wasn't my thing.  It wasn't very challenging, and I really am always up for a challenge even though it's terrifying and I cause myself so much stress and anxiety, but I love it at the same time."
Q:  What were the challenges in this film? It's quite physical, what was it like to do all the physical comedy?
A:  "Yes it definitely was physical but I don't think that was the most challenging thing for me.  I think the challenge lay in playing a character who had so many layers and really hit so many different emotions.   I just wanted to make her vulnerable enough so that the audience can sympathize with her enough to marry Marni's brother, because if not the story wouldn't work. She has to have redeeming qualities, and that was a big thing for me.  It was a big challenge and the comedy aspect of it  all is just scary."
Q: What was it like working with the director Andy Fickman, he seems very upbeat and energetic?
A:  "Oh, he was so amazing and he made this experience great for me because he created a safe zone.  He stopped the comedy being so scary for me, which was huge because I kept saying:  'I'm not funny.  I'm not funny.  I can't do this.  I can't do this' and Andy  let me play and gave me the chance to be this interesting person and to create my own character.  Also Andy's such a character.  I mean, he's just so much fun to work with."
Q:  Do you have any interesting projects coming up?
A:  "I just did a movie called THE DOUBLE with Richard Gere and Topher Grace which was very exciting. Topher is a friend so that was fun.  I got to play his wife in the movie  and my character has a five-year-old kid and a baby, and I got to play mom.  It was cool."
Q:  Did you always want to act?  As a kid was it a passion or a dream?
A:  "I started when I was really young, four years old, so it was always on my radar. My parents thought I was really introverted as a kid and so a family friend was doing commercials and said 'let's just see if she opens up doing some acting, maybe she will meet some friends, whatever.'  I really did have a great time and my parents said 'we will never force you, you do it if you want to, we just thought it might be fun for you.'  I said  'you know what, I'll keep trying this.'  And then I really grew a passion for acting and I started watching movies to learn more about acting. When I turned 19 I was supposed to study business and finance but decided instead to try acting and make a go of it, so that's what I did.  I moved out from home  and that was terrifying because I left my family. They are about an hour-and-a-half away so it's not so bad, but I did it and I've been really lucky."
Q:  Were there any tough times?
A:  "I was lucky enough that I had saved money from the acting jobs when I was younger so I had a little bit of a cushion when I came out here to L.A. which is nice.  Not many people have that. I started auditioning and I got my first role about 6 or 7 months into moving to L.A., which was on a TV show called SOUTH BEACH.  I learned a lot from it, and it was a great experience, and after that the show got canceled and I went on auditions and did a show called OCTOBER ROAD, and that was I think the job that opened the most doors for me.  I was able to meet so many people and work with such great actors and yeah, here I am sitting here with you right now which is really cool. I am very happy."
Q&A With Kristen Bell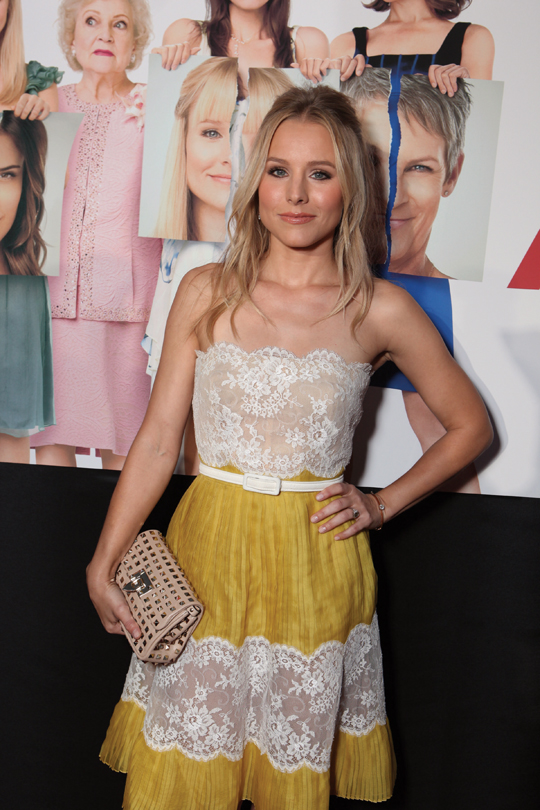 Q: What was it like playing the unattractive unpopular girl? (at least the teenage version of your character).
A: "It was awesome because pretty girls aren't funny.  They're not, it's just a fact.  And they are usually not very interesting. Sorry, pretty girls."
Q: What made the role particularly interesting?
A: "Playing Marni was fun for me because the part involved wearing prosthetics, which I like. I had to look unattractive with acne, which I enjoyed as a character actress. I actually wanted to go much further playing this high school acne-prone adolescent and I was pulled back (laughs).  I wanted whiteheads on all the centers of my zits because I thought that would look realistic.  I had very bad skin as a young teenager, everybody did, you don't know what to do and you're applying hot compresses.   It's real and it's funny. But they definitely pulled me back for Marni. They said 'no, I think that's enough acne.'  I also wanted her to look hunched, because when you're timid and paranoid about being bullied, your body kind of freezes, and so a lot of kids go through high school really slumped over."
Q: Can you talk about the story and Marni's journey?
A: "You meet her when she's in high school, and she is a typical nerdy girl without a lot of friends.  None of the popular girls wanted to be friends with her. She was tormented by one girl in particular. Now she has a job in PR and loves what she's doing.  She comes home for her brother's wedding and meets his bride, only to find out it's the mean girl from high school. So the rest of the movie is her trying to break up the wedding. You find out that Joanna's aunt (Sigourney Weaver) and Marni's mother (Jamie Lee Curtis) have a similar relationship with a lot of animosity. Everyone is holding onto secret resentments."
Q: What were you like at school?
A: "I was somewhere in between Joanna and Marni in high school.  I wasn't sitting alone in my basement all day.   I had a lot of friends, I was always very outgoing. But I was definitely a people-pleaser.  I wanted everybody to like me, and that sometimes made me a little bit of a pushover, because I was always concerned about not having confrontations. I wanted to be very outgoing, but I was timid and wanted so badly to be accepted. I didn't want anybody angry at me—ever.  I was scared of being rejected, so that's how my insecurities manifested themselves."
Q: But you are so pretty, it is hard to imagine you feeling unattractive?
A: "Well, I mean that's all relative you know?  If Gisele Bundchen was sitting right here, I would not look so great. I haven't always felt pretty.  I'm sure not every supermodel in the world wakes up and goes, 'I'm so beautiful.' I mean we're women.  We are masochists by nature.  That is what we do, it is in our DNA. I had my make-up and hair done this morning so right now, I feel great.  Snap my picture, go ahead. But that's not a consistent or realistic feeling and anyone who tells you that it is, is crazy."
Q: What was it like working with Sigourney and Jaime Lee Curtis?
A: "They're both hilarious and brilliant.  Initially, I was intimidated because they're such icons, and then I got worried that there were going to be too many personalities on the set and a lot of estrogen.  And then I clicked into high school mode really quickly trying to please everyone and I thought:  'Okay, I need to make everybody like me.  I will bring the coffee.'   But very shortly I realized they have worked for decades because they're amazing and really cool women. They're nice to work with and they bring lots of ideas to the set, and they're very collaborative.  I was excited to see how each woman worked, because every actor has a different process.  They welcomed me with open arms as a peer, which was the ultimate flattery I think."
Q: How challenging was the physical comedy in the film?
A: "It was great and hard work too. I didn't really get injured until the scene where Odette and I go crazy with each other in a big cat-fight, and I was running in high heels on the dance floor.  It was really slippery, and I had to do two different takes and land on my tailbone. It was so painful, I fully thought I had broken my back, and they captured the take on camera.  I had quite a few bumps and bruises on my knees because of the fast run that I was trying to do to get away from Odette (Yustman), but we just worked through it.  There was a little bit of pain, but nothing was broken. Odette is very game and she is stronger than she looks, so we had a lot of fun hurling different pieces of furniture and plates at each other."
Q: Did the director tell you to go for it and improvise a little, or was it really carefully orchestrated?
A: "The only things that were carefully orchestrated were the breakables we were working with, because we actually had to throw some things at each other that had to shatter.  The glasses and plates we smashed were breakaway plates that they use on films, and they are not hard enough to cut you.  They almost crumble a little bit which is a safety precaution. They are the type of plates that stunt people use. So those sequences were orchestrated, but a lot wasn't, for example when we chased each other around the room a couple of times and then they filmed it."
Q: There is a lot of running and action—are you very fit, do you run in real life?
A: "Actually I just started running about two weeks ago, and I hate it.  I think it's the worst activity you could possibly do (laughs). Anyone who tells you they love running is lying. I started doing it because it's good for me. I don't want to eat celery but I do because it is healthy.  Running is healthy for the body, and cardio is very important I think, and so is staying active. If you are active, you're able to have more energy throughout the day, and those endorphins are great.  Running is a really easy way to accomplish all of that as opposed to just sitting at home doing bicep curls."
Q: Do you run in a gym or outdoors?
A: "I run outside.  There are so many good hiking trails here in Los Angeles.  I've done it three times now, and each time was horrible. But I pushed through and afterwards I felt like Superman.  It was awesome."
Q: Are you pretty disciplined with fitness and diet?
A: "Yes and no.  Yes, I'm very disciplined, but I also allow myself to cheat.   I do everything in moderation. I would never say that I am never going to have sugar again.  I will eat healthily throughout most of the week and then allow myself to cheat, because allowing myself to cheat is what allows me to have willpower the rest of the time."

Q: Have you still got friends that you stay in touch with from high school?
A: "I think I had more guy friends up until maybe my mid 20s, so my friends from high school are mostly guys, but I do have one best girlfriend I have had since I was nine. I saw her two days ago. But I have a lot of really good girlfriends in Los Angeles. For the most part I think it is the girls who remain close."
Q: How authentic do you think YOU AGAIN is, given that it's a comedy?
A: "I think it's pretty authentic.  The comedy is broad, but I think we tried to ground the emotional parts in reality. The reality of the message is that everybody has come across a mean girl, even the mean girl. What is relatable about it is that everyone in high school beats themselves up and feels insecure, no matter how you slice it or dice it.  You could be idolizing someone in high school and yet deep down she will have the same kind of insecurities as you do, and it isn't until ten years later that you will realize that.   What is funny to me is that when you are planning to attend your ten-year high school reunion, you immediately need to lose 10 pounds.  You're convinced you have to do it, but a week before, when you didn't know your high school reunion was happening,  you didn't need to lose 10 pounds. So in a funny way, we're still striving to impress the people that we wanted to impress when we were sixteen.   It's all about how everybody just wants to be loved."
Q: What is everyone's reaction when you have a reunion, now that you are so successful and well known?
A: "I have kept in touch with my friends, and their reaction has always been great and supportive.  Nobody was going around high school predicting: 'Oh, that person will fail.  That person will succeed.'  You hope for the best for everybody.  There were certain people that I didn't expect to come out of their shell. You can't let any stereotype in high school dictate who you are for the rest of your life, and that's the message of this film I guess. When you are at high school it feels like you will stay the same forever.  You'll always be a jock, or you'll always be a nerd, and that's just not the case.  You can be anyone you want to be and have dynamic relationships throughout your entire life, but those emotions you remember will always tug at you, the way you were labeled in high school. That is why the film is so relevant and fun."
Q:  The wedding scene in the film is raucous and completely crazy. Do you think your own wedding day will measure up to this one? (She is engaged to actor Dax Shepard.)
A: "I can't even conceptualize that.  I don't want any sort of a massive day like the wedding in this film. No.  No, no, no.  I get enough attention as it is on a daily basis from being in this business.   I don't think I'm craving that idea of being a princess on my wedding day. But I am very excited about getting married.  I don't know when. I'm not nervous, and that's a little bit strange I guess, but we're very good friends. My relationship hasn't changed being engaged, and I don't think it's going to change when I'm married."
WIN IT!
You Again is being released Feb 8th!  You can win a Blu-ray/DVD Combo Pack right here at ahappyhippymom.com!  Enter before Feb 22 for your chance to win!
BUY IT
You Again will be hitting the shelves tomorrow and would make a great Valentine's Day gift!  You can also purchase You Again Two-Disc Blu-ray/DVD Combo Pack at Amazon.com for just $24.99!
[ad#Google Adsense]