This Valentine's Day get it on with Genesis Today's Cranberry Goji and enter for the chance to win $2000 for a romantic giveaway!  Plus, the lucky winner will also receive a romantic gift basket valued over $300 that is filled with goodies including Goji products, champagne, and yummy dessert treats!  Entering the contest is as simple as one, two, three!
1. Like Genesis Today on Facebook and click the "Get It On" tab.
2. Upload a fun photo of you enjoying Cranberry Goji. Creativeness counts, so make it good!
3. Tell Genesis Today what you love most about your partner.
That's it your done and entered to win the fantastic prizes!
Photos must be submitted by 2/21/2011. Genesis Today will pick five finalists for you to vote on and winners will be picked by 2/28/2011. Please read the rules prior to entering. GOOD LUCK!
*Genesis Today's Cranberry Goji can be found in the refrigerated juice section at Walmart Supercenters.
$1.50 Off Cranberry Goji Coupon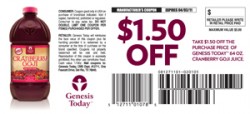 Don't forget to download your  $1.50 off Cranberry Goji coupon to get you started!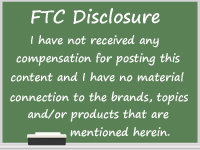 [ad#Google Adsense-1]