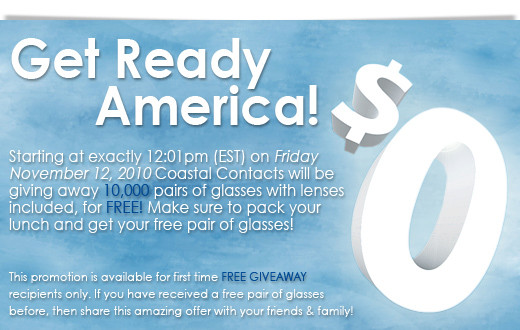 CoastalContacts.com recently announced on their Facebook Wall that they are giving away 10,000 FREE pair of glasses which include the frames and standard 1.5 index lenses on November 12th at 12:01 pm eastern!  Shipping and handling costs are NOT INCLUDED in your order and will be  about $10-15.  That is still a great deal!
There are certain frames not eligible for the promotion.  If you see a "Coupons not applicable" message on a pair of frames, then it is excluded from the promotion.  The company recommends you prepare a list of your 5 favorite frames just in case some frames aren't available later.  I'm sure the free glasses and frames are going to go FAST!
Here is how to get your glasses…
Go to Facebook and "like" CoastalContacts.com and obtain your coupon code under the "Get Code" tab.   Then on November 12th at 12:01 pm eastern log onto their website and order your free glasses.  To get your free glasses make sure to  apply the code at the "Order Review & Payment" page.  After applying your code, you will see your order total before you choose to check out.  Make sure you have a Visa, Mastercard, AMEX, Discover credit card handy to pay for shipping charges.  The company also accepts Paypal too!
Terms & Conditions
"Residents of the United States of America only. Valid at 12:01 pm (EST) local time November 12, 2010 only. 10,000 frames available. Free glasses include the frame and standard 1.5 index lenses. Upgrades for progressive, tints, and high index lenses are not included with this offer. Shipping and handling applies. Some frames may not be eligible. Limit 1 per household. Previous free glasses recipients excluded. Coastal Contacts reserves the right to cancel orders."
[ad#Google Adsense]