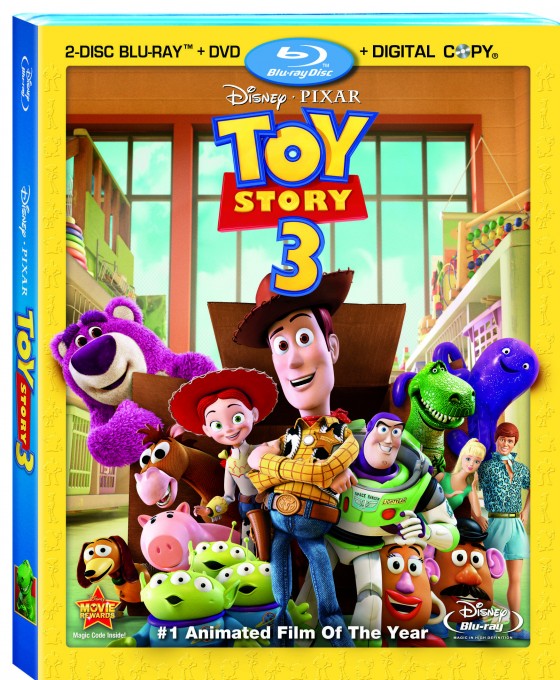 THE WORLD'S BIGGEST ANIMATED
RELEASE OF ALL TIME COMES HOME!

THE BIGGEST TOY STORY YET JUST GOT BIGGER WITH
BLU-RAY™ COMBO PACK OFFERING THREE WAYS TO ENJOY!

DISNEY PIXAR'S
Toy Story 3

Buzz and Woody – Coming To Blu-ray™ Hi-Def and DVD – November 2, 2010

They're back! Walt Disney Animation Studios and Pixar Animation Studios present the critically-acclaimed, global box office smash Toy Story 3, an exciting, heart-warming story filled with humor, adventure and surprises, that reunites America's favorite animated toys, Buzz and Woody, and introduces a whole new set of favorites to audiences around the globe.  The world's #1 animated film in box office history and The Walt Disney Company's second biggest film of all time, Toy Story 3 will be released on Blu-ray and DVD November 2 by Walt Disney Studios Home Entertainment.

Families won't want to miss adding the Blu-ray Combo Pack, 2 Disc Blu-ray or the DVD edition of Toy Story 3 to their home movie collections. Fans of all ages who have come to love and cherish these unique characters, can explore them in a whole new way as the Disney●Pixar team provides a more in-depth look into Pixar Animation Studios and the creation of its characters with hours of exclusive bonus features on the Blu-ray Disc version of the film including filmmaker commentary with Director Lee Unkrich and Producer Darla K. Anderson, amusing views of life at Pixar, analysis of favorite scenes, the Toy Story Trivia Dash game, and much, much more!

Toy Story 3 marks Pixar veteran Lee Unkrich's feature directorial debut and the return of Pixar's favorite composer Randy Newman, with the addition of Academy Award-winner Michael Arndt's (Little Miss Sunshine) compelling original screenplay. Tom Hanks (Angels & Demons), Tim Allen (The Santa Clause), Joan Cusack (Confessions of a Shopaholic), John Ratzenberger (Up) and Don Rickles (Toy Story 2) reprise their roles as the voices of the iconic characters Woody, Buzz, Jessie, Hamm and Mr. Potato Head, respectively, and are joined by new characters voiced by Michael Keaton (Herbie Fully Loaded) as Barbie's romantic foil Ken, Timothy Dalton (Hot Fuzz) as the thespian hedgehog Mr. Pricklepants, and Ned Beatty (Rudy) as the cuddly Lots-o'-Huggin' Bear, among many others, as the toys face a new adventure as Andy prepares to go off to college.

Suggested retail prices for Toy Story 3 are $45.99 (US)/$52.99 (Canada) for the 4-Disc Blu-ray Combo Pack (Blu-ray + DVD + Digital Copy), $39.99 (US)/$47.99 (Canada) for the 2-Disc Blu-ray, and $29.99 (US)/$35.99 (Canada) for the Single Disc DVD.

Also available on November 2 is an exciting Ultimate Toy Box 3-Movie Collection that contains all three TOY STORY releases on Blu-ray, DVD and Digital copy. Priced at $100.00 (US)/$115 (Canada), this release contains:

· Toy Story – 1 Disc DVD; 1 Disc Blu-ray; 1 Disc Digital Copy

· Toy Story 2 – 1 Disc DVD; 1 Disc Blu-ray; 1 Disc Digital Copy

· Toy Story 3 – 1 Disc DVD; 2 Disc Blu-ray; 1 Disc Digital Copy

TOY STORY 3 – Bonus Features:

DVD :

· Day & Night – The innovative and entertaining short from the imagination of Pixar artist and Director Teddy Newton.

· Toys! – A closer look at all of Toy Story 3's beloved toys from updating the classic characters to the creation of the Sunnyside Daycare and Bonnie's Room toys.

· Buzz Lightyear Mission Logs: The Science of Adventure – Produced in conjunction with NASA, this hybrid animation documentary of Buzz's visit to the International Space Station focuses on research in zero gravity and Buzz's triumphant return to Earth.

· Paths to Pixar: Editorial – Pixar editors, past and future share anecdotes about their careers.

· The Gang's All Here – A touching look at the returning voice talent for Toy Story 3 and an introduction to the voices of the new characters.

· A Toy's Eye View: Creating A Whole New Land – A sneak peek at the new Toy Story-themed playland at Hong Kong Disneyland.

· Studio Stories – A series of amusing animated anecdotes about life at Pixar.

Ø "Where's Gordon?" – An animator finds a hidden room at Pixar.

Ø "Cereal Bar" – The majestic and expansive Pixar cereal bar is explored.

Ø "Clean Start" – The Toy Story 3 animators shave their heads to mark the start of the film.


BLU-RAY COMBO PACK: Everything on the DVD plus…

· Toy Story Trivia Dash – This cool game challenges you to sprint to the finish with Woody, Buzz, Jessie and Rex as you quickly answer questions about all three Toy Story movies.

· Cine-Explore – Commentary by Director Lee Unkrich and Producer Darla K. Anderson.

· Beyond the Toybox: An Alternative Commentary Track Featuring Leads from Story, Tech, Art and Animation – Commentary by Story Supervisor Jason Katz, Supervising Technical Director Guido Quaroni, Production Designer Bob Pauley and Supervising Animators Bobby Podesta and Michael Venturini.

· Beginnings: Setting A Story In Motion – Screenwriter Michael Arndt analyzes successful opening scenes from Toy Story, Finding Nemo and The Incredibles.

· Bonnie's Playtime: A Story Roundtable – A roundtable discussion with Director Lee Unkrich and the story artists who brought the "Bonnie's Playtime" scene to life.

· Roundin' Up A Western Opening – The development of the movie's exciting opening scene.

· Life Of A Shot – Toy Story 3 artists and technicians describe their contributions to a few of the shots in the film's "Western Opening."

· Goodbye Andy – An exploration of character design, acting and animation in the scene "Andy's Goodbye."

· Accidental Toymakers – By creating the Toy Story characters, the Pixar filmmakers found themselves in the unlikely role of toy designers. Meet the toy company that took a chance on manufacturing the now iconic toys and learn of their incredible success that began with a modest number of Woody and Buzz Lightyear toys 15 years ago.

· Making of Day & Night – The story behind the unique 2D/3D blended short.
Watch The TOY STORY 3 Trailer!
[field name=iframe]
REVIEW
When I first heard Toy Story 3 was coming out I was so excited and couldn't wait to see it.  However, I never did make it to the theater and had to wait for it to be released on DVD.  Was it worth the wait?  MOST DEFINITELY!
The whole lovable Toy Story gang is back for an all-new adventure along with a few new faces, including Barbie's plastic counterpart Ken (Michael Keaton), a cute spikey hedgehog named Mr. Pricklepants (Timothy Dalton) and a sinister strawberry-scented bear called Lots-o'-Huggin' (Ned Beatty).  It's the BEST Toy Story of them all and is filled with lots of laughs, exciting animated fun, and heartwarming scenes that pull on the heart strings which can even make a grown man weep!  I honestly thought I saw a tear well up in my hubby's eye as he watched Andy part with his toys.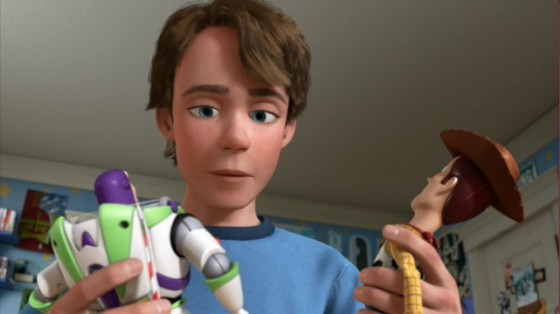 The story begins with Andy who is now 17 years old preparing to leave for college while his faithful toys watch nervously wondering what will become of them.  Andy empties out his toy box into a black trash bag to be placed in the attic.  Coming across Woody and Buzz,   Andy hesitates placing Woody in the box destined for college and tosses Buzz in the garbage bag.  Andy heads to the attic to place the toys in storage, but he is distracted by his sister who needs a hand with the box of toys being donated to Sunnyside.  His mom finds the bag of toys and mistakes them for garbage which lands them on the curb during trash day.  The toys make a narrow escape  from the garbage truck and feel betrayed by Andy who left them for junk.  Woody the whole time watching what unfolded,  tried to convince the toys that it was all a big mix-up and they were meant to be put in the attic.  The toys not believing him jumped in the box aimed for Sunnyside Daycare and felt optimistic thoughts of finally being played with again.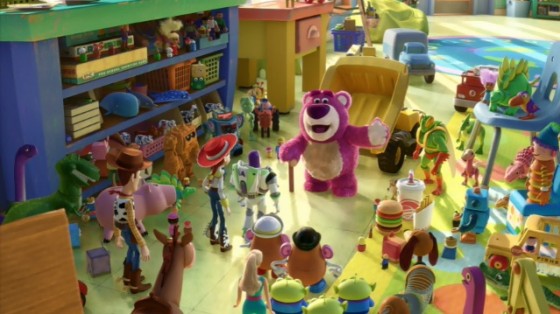 As they arrive at the daycare, the toys think they hit the jackpot when greeted by a bunch of new toys and a friendly strawberry-scented bear called Lots-o'-Huggin'.  Shortly afterward,  they realize Lots-o'-Huggin' is actually demented and the daycare is a nightmare!   The toys must now find a plan to escape the evil bear running the daycare and get back home where they belong.
Pick up your Toy Story 3 copy on November 2 and find out what happens next!
"DAY & NIGHT" from Toy Story 3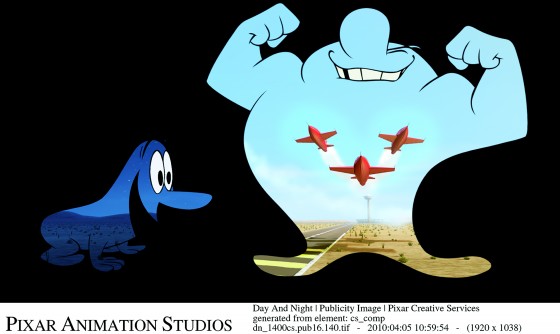 I always LOVE watching  the animated short shown prior to the feature, because usually there is a good moral message to be learned!  Day & Night has to be one of my favorites and was creative beyond any of the other shorts I have seen yet.
"When Day, a sunny fellow, encounters Night, a stranger of distinctly darker moods, sparks fly! Day and Night are frightened and suspicious of each other at first, and quickly get off on the wrong foot. But as they discover each other's unique qualities–and come to realize that each of them offers a different window onto the same world–the friendship helps both to gain a new perspective."
FREE Activities!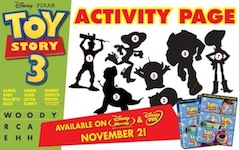 In anticipation of the November 2nd release of Toy Story 3 on Blu-ray & DVD, I have a some fun print-and-play activities made available by Disney!  Search the words, connect-the-dots, spot the differences, and color your favorite Toy Story 3 characters.
Download and print off your activities at http://tinyurl.com/TS3Activities
Save $8.00!
For a limited time Disney is offering a coupon to save $8.00 off Toy Story 3 Blu-ray Combo Pack!  Get your coupon here.
Toy Story 3 Great Escapes Giveaway

Enter Disney's Toy Story 3 Great Escapes Giveaway for the chance to win 3-day/2-night trip for four to the U.S. premiere of Cars 2 in June 2011(ARV $5,000),3-night preview cruise for four on the Disney Dream cruise ship between January 22-26, 2011; includes airfare to Orlando, FL, 1-night accommodations in Orlando prior to cruise, and Special Toy Story character experience in Andy's Room (ARV $7,281.89) or 3-D Ultimate Toy Box including four pairs of 3-D glasses, 3D BD player, 3D enabled TV, Pixar Blu-Ray bundle, and Toy Story Collection from Thinkway Toys (ARV $4,824.80)!
Giveaway ends 1/31/11 at 11:59:59 p.m. PT.  Please read the official rules before entering and to learn the entry period dates for each prize.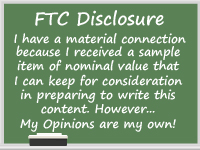 [ad#Google Adsense]