Looking for a quick dinner idea?   Try this simple black bean and cheese quesadilla recipe and avoid those high fat,  over processed and not-so-satisfying frozen meals!
Tumaro 's Gourmet Tortillas, the country's best-selling flavored tortilla brand, has some ideas for those over tired, no time to make dinner nights.  If you haven't tried Tumaro's Gourmet Tortillas your missing out on a wonderful treat!  I had a chance a while back ago to review the new line of Tumaro's Gourmet Organic Flour Tortillas and they were absolutely delicious!
Black Bean and Cheese Quesadilla Recipe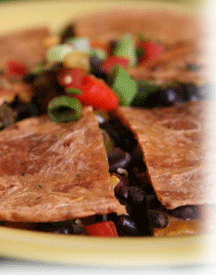 Ingredients:
. 2 Tumaro's Gourmet Tortillas
. Shredded organic low fat Monterey Jack cheese
. Woodstock FarmsR Organic Diced Tomatoes
. 1/2 cup canned black beans, drained
. Mediterranean OrganicT Organic Black Olives, sliced
. 1 Tablespoon scallions, chopped
Directions:
Warm both sides of a tortilla in a dry frying pan. Remove from pan, then warm both sides of remaining tortilla. Sprinkle with cheese, diced tomatoes, black beans, olives, and scallions. Top with previously warmed tortilla. Press with spatula and heat until cheese is melted. Top with salsa, sour cream, and chives, as desired.
*Photo and recipe courtesy of Tumaro's Gourmet Tortillas.
[ad#Google Adsense-1]