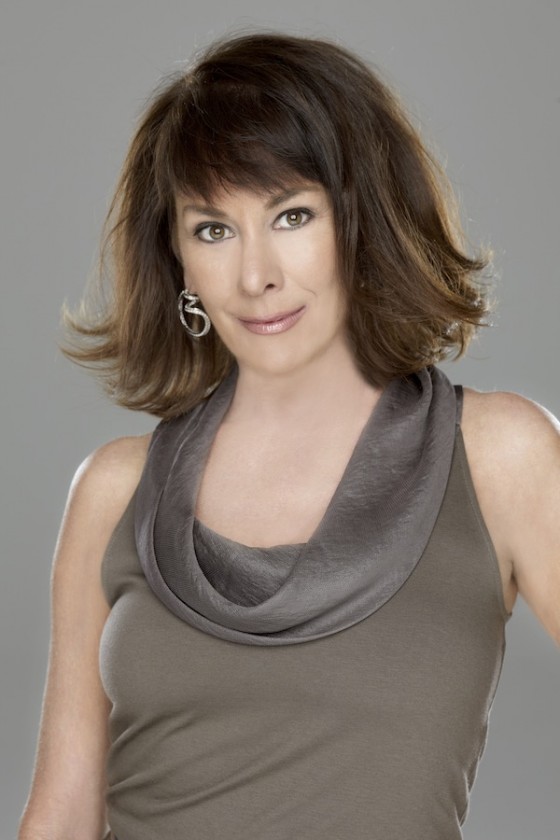 Only two more days and the BEAUTY AND THE BEAST: Diamond Edition Blu-ray + DVD Combo Pack will be hitting the shelves!  If you haven't had a chance to take a look at what the remastered version has to offer, I was able to review a Blu-ray copy and can tell you it's absolutely GORGEOUS.  In anticipation of the the October 5th release of the high definition animated version of the classic tale, "Beauty and the Beast," Disney has made available to me  a fun interview with the multi-talented Paige O'Hara (voice of Belle) on being part of "Beauty and the Beast" and on the making of the film that I would like to share with all of you.  Which of her features are incorporated into Belle's animation? What was it like performing at the Academy Awards Ceremony? Find out the answers to these questions and more!
Did they incorporate any of your features when they drew Belle?
Paige O'Hara answer – "Oh yeah. The eyes and cheekbones and the way she raised her eyebrow and pushed her hair out of her face—that was me. Little things and expressions. When I looked at the wall, there were pictures of Elizabeth Taylor and Grace Kelly and Audrey Hepburn up, and my little funny picture was there too. The fact that she wasn't so perfectly beautiful made the film that much more successful. She is a little odd. Of course that's the character and I identified with her. I was odd as a kid. I was into Gershwin. I definitely identified with Belle. More girls than not feel that way I think."
How excited were you to be part of such a legendary Disney title?
Paige O'Hara answer- "You know, Mary Poppins is my favorite film and I loved Bambi and all the other Disney animated films. I was always an artist as well so I appreciated the animation too. Playing Belle was a dream come true."
The film won two Academy Awards. Tell me what it was like being there.
Paige O'Hara answer- "Oh it was incredible. It is the only animated film to ever be nominated for Best Picture so it holds that stature as well. I was really excited. We had heard rumors about the songs being nominated and there was a lot of discussion about celebrities performing our songs, but Mr. Eisner and Mr. Katzenberg insisted that the original artists get to sing their songs. That was really, really wonderful. It was the only time I sang with Angela Lansbury and Jerry Orbach. Angela introduced me at the Academy Awards. I remember we were backstage and of course I was going to be singing live which was scary so I was shaking. She was shaking too. She patted me on the butt and said if, "I had your voice, I wouldn't be shaking. Don't be nervous."
What else do you remember about the experience?
Paige O'Hara answer- "It was fun being a part of the parties. Honestly, the worst part about the Oscars was that I didn't like my dress—the one I performed in. They told the designer to put me in blue and it was this blue and white dress that looked more like Bo Peep or Dorothy. It was way too frilly and not very "Belle-y." It was a checkerboard pattern. I had to perform in that dress, but afterwards I got to change into a beautiful Bob Mackie teal green gown. I even made one magazine's Top 3 Best Dressed list!"
You won a Grammy for a song from "Beauty and the Beast's Children Singalong" too. What was that like?
Paige O'Hara answer- "It was incredible. Of course it won Best Children's Album, which is the Grammy I have on my wall. The whole ride has been phenomenal. I am still recording as Belle all the time…CD ROMs and toys. I was just in the studio recording Belle the other day. 99% of the time I record in a studio here in Vegas. They patch me in over the phone."
You are now painting original pieces of art for Disney based on some of your favorite moments from the film. Can you tell me about that?
Paige O'Hara answer- "I've always painted, since I was a little girl. I was drawn to Turner and Sargant and da Vinci. When they asked me about it, I thought why not? It would be kind of fun to show my version of Belle and stay as true as possible to the animators. I wanted to create moments to take them to a different level. Over the last year and a half, I'll paint something and send it in and get comments and then make the changes and fix it and send it back. Three of the 8 were approved outright without changing anything."
What form of painting do you do?
Paige O'Hara answer- "Water mixed with oils. It is an oil texture but water-based and there's only one company that puts the paints out. It takes a lot longer to dry than acrylics but it feels like oil paint without the smell. Most of the other Disney artists do watercolor or acrylics."
Have you painted your favorite scene, the one in the snow?
Paige O'Hara answer- "Ironically I have painted that scene 15 times and I haven't submitted it because it's just not good enough. That's one I am still going to work on. I'd love to do the Beast with the little bird."
You've played Fantine in "Les Miserables", Nellie Forbush in "South Pacific" and Ellie May Chipley in "Showboat" on Broadway—all of whom are beloved characters. How does voicing Belle compare?
Paige O'Hara answer- "Well it's totally different, performing on stage, versus doing Belle on film. You use totally different chops as they say. I love the live audience, but I don't know, I have a softness for Belle because she is the closest to me as I was as a young girl."
How did you land the role of Belle?
Paige O'Hara answer- "I was working in New York as a Broadway actress and read about the audition in The [New York] Times. I called my agent and said I have to be seen. I got seen and my first audition was with our casting director. I sang a song I loved from Chess called "Heaven Help My Heart" and I read a couple of lines. For the first couple of auditions they sent tapes to L.A. and then the whole gang flew in and we started auditioning live. They would close their eyes so they could imagine the characters saying or singing those lines. In the beginning, that's what they wanted. They didn't want to be distracted by what we were doing with our bodies and our faces."
How many auditions did you have altogether?
Paige O'Hara answer- "There were five auditions all told, with 500 other actresses."
How long did the casting process take?
Paige O'Hara answer- "About 6 weeks. Fairly long. When I found out, it was quite a week. My husband proposed on my birthday and I got the part 2 days later. I think I was 31. Disney says I am a different age every year so I am not really sure anymore."
What was the recording process like?
Paige O'Hara answer- "It was fun. Robbie and I recorded together which they don't do anymore. They would put cameras on us the whole time. That's how mannerisms and expressions change. We worked 10 to 6 with a lunch break for a few days in a row, and then we'd go away for a few weeks while they animated it. It was incredible to work with Robbie. He is such an incredible Broadway actor and film actor. He helped me to be better. It helps when you are with someone that talented."
What do you remember about the process of creating the character of Belle?
Paige O'Hara answer- "After they finished the first drawing of Belle, they said she was too beautiful, too perfect. So they threw the first drawing away. They wanted her still beautiful but a little quirkier. The fact that they made her with her brown eyes meant so much to so many little girls."
Angela Lansbury and Jerry Orbach were also in the film. What was it like working with two Hollywood heavyweights?
Paige O'Hara answer- "I only sang with them at the Academy Awards but I would hang out for their [recording] sessions. Angela I idolized. When I first came to New York I would sneak into Gypsy. I watched Gypsy six times."
What is your favorite song in the film?
Paige O'Hara answer- "I'm torn. I'll tell you why. Oddly enough, it's not my song. I love the ones they added, my favorite of which is "Human Again." That was [lyricist] Howard Ashman's favorite song. It wasn't in the original because you had to stick to a certain time and it would have made the film too long. Something about it that just inspires me and makes me cry."
What is your favorite scene in the movie?
Paige O'Hara answer- "Definitely the "Something There" sequence with Belle playing in the snow with the Beast, the bird on his hand. I really think that is the moment when she fell in love with the Beast. She looks at him and says, "New and a bit alarming. Who'd have ever thought that this could be?" I love the way they animated it when he becomes the prince. Every time I see the Beast with that grin on his face and the bird in his hand, my heart just melts."
It's been 20 years since the film was first released. When you look back, what are some of your favorite memories from making the movie?
Paige O'Hara answer- "Certainly the film festival in New York when we showed the unfinished version for all the critics in New York. We were all nervous wrecks. We had no idea how the critics would respond to it, but we got a 10 or 15 minute standing ovation. I knew from being in New York since I was 17 how tough the New York audiences are, so it was truly remarkable."
Tell about premiere of the movie. Where was it?
Paige O'Hara answer- "There were several. The first time I saw it was in Florida at Walt DisneyWorld. My mother was too ill to come but my stepfather and my sisters and my brother were there. I sat two rows in front of Alan Menken [who wrote the score] and we both started crying. What was really kind of amazing was that my mom was so sick that they did another premiere in Ft. Lauderdale. She came in her wheelchair."
SAVE $10 OFF!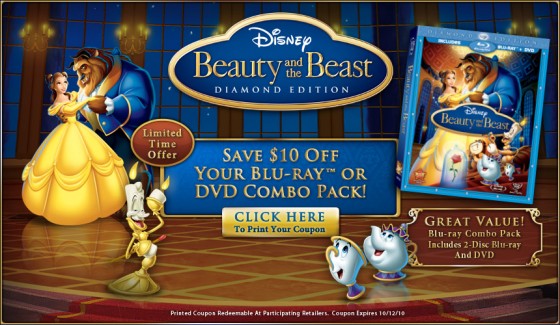 Download a special coupon for $10 off the Blu-ray + DVD Combo Pack for this release from Disney Movie Rewards!
[ad#Google Adsense]