In celebration of World Ocean's Day, Walt Disney Studios Home Entertainment today announces the release of Disneynature OCEANS as a Disney Blu-ray Combo Pack (Blu- ray + DVD) and 1-Disc DVD, October 19, 2010 and the extension of the "See OCEANS, Save Oceans" efforts — an initiative developed between Disneynature and The Nature Conservancy to help establish new marine protected areas.

Disneynature OCEANS is helping to conserve more than 35,000 acres of coral reef in The Bahamas on behalf of moviegoers who went to see the film during its theatrical opening week. In continued efforts, Disneynature has committed to carry on the "See OCEANS, Save Oceans" initiative by contributing a portion of sales to The Nature Conservancy through Disney's Worldwide Conservation Fund for every Disneynature  OCEANS Blu-ray Combo Pack or DVD purchased between October 19 and 25. As one of the world's leading conservation organizations, The Nature Conservancy is widely recognized for its efforts to protect vital marine habitats.

OCEANS on Blu-ray Hi-Def will take viewers on a breathtaking and unprecedented high-definition journey to discover nature's mysteries, showcasing creatures captured on film for the first time and state-of-the-art imagery of the colorful symphony that lives under the sea. With crystal clear picture, and theater-quality sound, OCEANS puts audiences in the very heart of the action, racing along amid a school of traveling tuna, leaping with dolphins and swimming shoulder-to-fin with whales that will entertain kids and parents alike.

Directed by Jacques Perrin (two-time Academy Award nominee for Best Documentary, Features for Winged Migrationin 20 03; Best Picture for Z in 1970) and Jacques Cluzaud (Winged Migration, Les Ailes de la Nature), the two filmmakers venture in, on and around our seas to discover photogenic oddities and endangered wonders. OCEANS dives deep into the very waters that sustain all of mankind—exploring the playful splendor and the harsh reality of the weird and wonderful creatures that live within. These two directors capture mesmerizing footage using the most technologically-advanced equipment that has allowed them to bring this to true high-definition powers.

OCEANS is narrated by Pierce Brosnan (The Ghost Writer, Percy Jackson and the Olympians, and Mamma Mia) who has long been affiliated with environmental causes and campaigns including programs such as the International Fund for Animal Welfare's "Save the Whales Again!"campaign.

*About "See OCEANS, Save Oceans":*

By purchasing a Blu-ray Combo Pack or DVD of Disneynature OCEANS between October 19 and 25, viewers can help conserve our world's oceans and the species that depend on them for survival. In honor of each Blu-ray and DVD purchased during that period Disneynature, through the Disney Worldwide Conservation Fund, will help establish new marine protected areas in The Bahamas with The Nature Conservancy, one of the largest conservation organizations in the world. In The Bahamas, The Nature Conservancy and its local partners, including the Bahamian government, are establishing a new marine protected area along the west side of Andros Island. Currently, new marine protected area boundaries are being defined that will expand the part from 300,000 acres to over 1 million acres. These areas will contain miles of vital coral reefs that provide natural habitat, nurseries and feeding grounds for hundreds of marine species. For more details on Disney's collaboration with The Nature Conservancy, please visit: www.disney.com/oceans.

*About The Nature Conservancy:*

The Nature Conservancy is a leading conservation organization working around the world to protect ecologically important lands and waters for nature and people. The Nature Conservancy and its more than 1 million members have protected nearly 120 million acres worldwide. Visit The Nature Conservancy on the Web at www.nature.org.

*About Disneynature:*

Disneynature, the first new Disney-branded film label from The Walt Disney Studios in over 60 years, was launched in April 2008 to bring the world's top nature filmmakers together to share a wide variety of wildlife subjects and stories with theatrical audiences. Disneynature EARTH, the first film to premiere domestically under the new label on Earth Day 2009, garnered a record-breaking opening weekend for a nature documentary. Walt Disney was a pioneer in wildlife documentary filmmaking, producing 13 True-Life Adventure motion pictures between 1949 and 1960, winning 8 Academy Awards®. For more information about Disneynature, go to www.disney.com/oceans; to become a fan on Facebook link to facebook.com/Disneynature; and/or follow us on Twitter at twitter.com/Disneynature.

*About Walt Disney Studios Home Entertainment:*

Walt Disney Studios Home Entertainment, a recognized leader in the home entertainment industry, is the marketing, sales and distribution company for Walt Disney, Touchstone, Hollywood Pictures, Miramax and Buena Vista product, which includes DVD, Blu-ray DiscTM and electronic distribution. Buena Vista Home Entertainment, Inc. is a division of The Walt Disney Studios. These press materials are available in electronic form at www.WDSHEpublicity.com.

DISNEYNATURE OCEANS – on Blu-ray Combo Pack Features

Disc 1-Blu-ray Feature Film + Bonus

*Living Menus – A Fully Interactive Experience

* Filmaker Annotations

* Plus All DVD Bonus Features

Disc 2 – DVD Feature Film + Bonus

* Make A Wave – Disney's Friends For Change Music Video Featuring Joe Jonas & Demi Lovato

* Disney & Nature Preserving The World We Share

* Deeper In The Ocean – Select Bonus Videos
Watch The Trailer
[field name=iframe]
There is one word to describe Disneynature Oceans—BREATHTAKING!  I have watched hundreds of nature films in my lifetime, but nothing quite as beautiful and entertaining as Disneynature Oceans.
The story starts off with a boy running up and asks "What exactly is the ocean?"  Can you imagine having to answer that question?  My son and daughter have never physically seen the ocean or experience the beauty of it first hand.  How could someone fully explain the complexity of the ocean and the vast mysterious creatures  living in it?  I wouldn't even know where to start!  Well Disneynature Oceans takes you into the depths of the ocean with it's stunning images and state-of-the-art underwater filmmaking  and gives a glimpse of what lives within  the ocean in extraordinary detail.  The film lets you feel the power of the ocean from your home and brings you on a wondrous unforgettable journey.
Watch as the Blanket Octopus makes an astounding appearance with it's colorful crimson webbing.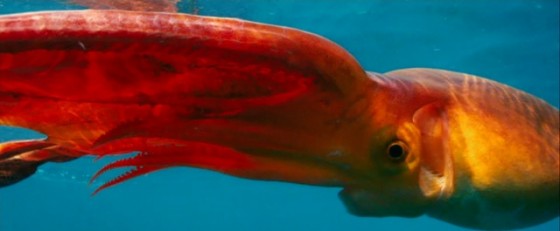 Swim alongside sharks.
Take a peek at the Dugong while it grazes on underwater pastures.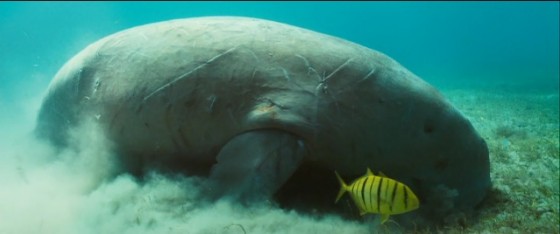 Root for baby sea turtles as they try to outrun hungry Frigate Birds and make it to the water.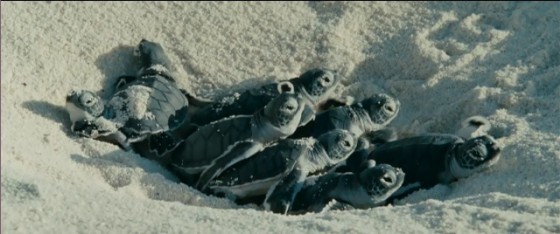 Unlike some wildlife movies, Oceans does not focus on nature's gruesome unpleasantries, yet it still depicts the realities of hungry creatures.   It also touches on the devastating effects of pollution and it is a great learning video for children.  The movie is suitable for very young audiences and entertaining enough to keep all ages captivated.  Don't miss this treasure and pick Disneynature  OCEANS Blu-ray Combo Pack up on October 19th!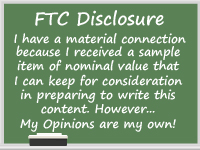 [ad#Google Adsense]