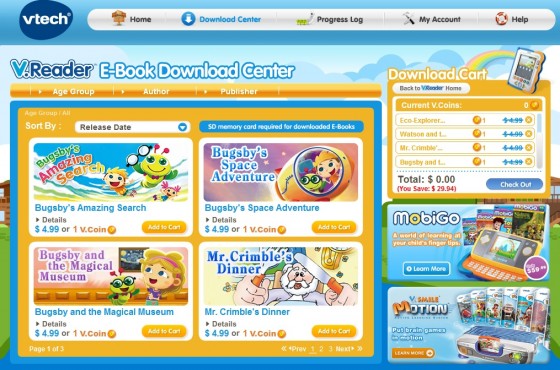 The wait is finally over and VTech has launched the  Learning Lodge Navigator!  In celebration of the new launch, VTech is offering six FREE e-Books (worth $30) for the V.Reader. YEAH!  When you register a free account you automatically receive 6 complimentary V.Coins (virtual currency) which are worth one e-book per credit.  The titles available for download include Bugsby's Amazing Search, Bugsby's Space Adventure, Bugsby and the Magical Museum, Mr. Crimble's Dinner, Tick Tock of Willowbrook Farm, The Numberville Picnic, Watson and the ook Worms, Eco-Explorers Island Adventure, Eco-Explorers In Africa, and Animal Safari!  You pick the six you want by adding them to your cart and then proceed to checkout.  Your free e-books will begin to download onto your PC and next you need to transfer the e-books to your V.Reader.  However, you need to make sure your SD memory card (not included in the initial purchase)  is inserted to be able to store downloaded content or the books won't transfer to the V.Reader.
While the Learning Lodge Navigator is still in Beta,  VTech's Learning Lodge offers downloadable books, games, customized themes and avatars.  Plus, the Learning Lodge allows you to track your children's achievement through a customized Progress Log too!
Check out VTech to learn more about the new Learning Lodge and to download your free e-books!
[ad#Google Adsense]