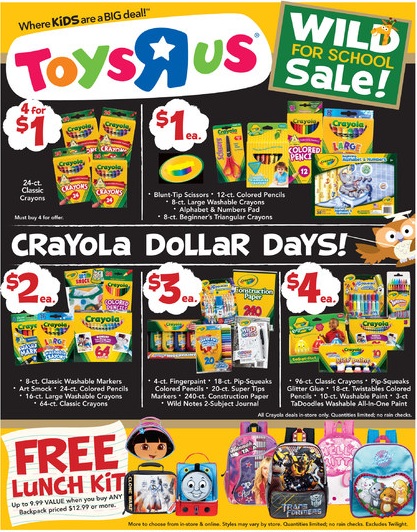 Toys R Us is having an awesome  back to school deals on Crayola products this week!  Plus, save on backpacks, lunchboxes, pencils, pens, locker accessories, stationery sets and more! You don't want to miss this sale.
Crayola 24-ct. Classic Crayons 4 for $1 -Must by 4 for offer. (in store only)
Blunt-Tip Scissors – $1
12-ct. Colored Pencils – $1
8-ct. Large Washable Crayons – $1
Alphabet & Numbers – $1
8-ct. Classic Washable Markers-$2
Art Smock- $2
24-ct. Colored Pencil- $2
16-ct. Large Washable Crayon -$2
4-ct. Fingerpaint-$3
18-ct. Pip-Squeaks Colored Pencils-$3
20-ct. Super Tips Markers-$3
240-ct. Construction Paper -$3
Wild Notes 2-Subject Journal-$3
96-ct. Classic Crayons -$4
Pip-Squeaks Glitter Glue-$4
18-ct. Twistables Colored Pencils-$4
10-ct. Washable All-In-One Paint-$4
3-ct TaDoodles Washable All-In-One Paint-$4
FREE LUNCH KIT when you buy ANY Backpack priced $12.99 or more!
[ad#Google Adsense]