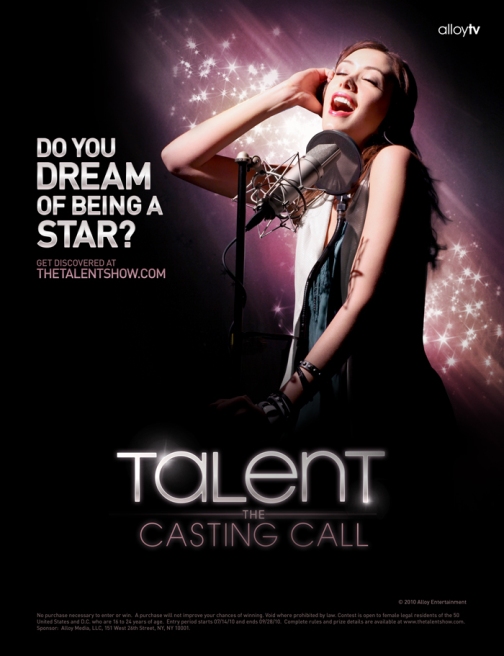 Does your teen have the "it" factor?  The executive producers of Gossip Girl, Vampire Diaries and Pretty Little Liars are looking for female singers, 16-24 to audition for  a hot new web series debuting early 2011.  This is an AMAZING opportunity and a chance to make your talented teen's dreams come true.  If your teen is chosen as the new teen sensation she will win  a lead role in Alloy's newest web series, Talent, and receive a recording contract with Jive Records, whose roster includes Usher, Britney Spears, P!nk and others.
Starting now through September 28, your teen can upload their singing audition on www.thetalentshow.com to enter the contest for the chance to be considered to star in Talent!  Throughout the contest, fans everywhere can rate the auditions to ensure their favorite contestants are top ranked, so get EVERYONE you know to vote for your teen to increase her chances of winning.  Each week, one standout performer will be featured in the coveted "Spotlight of the Week" position!  Will it be your teen?
"On October 6th, 20 semi-finalists will be announced who will vie for six exclusive spots to participate in Talent: The Casting Call. The six finalists will use their music and acting craft to stay alive throughout the reality series to become Alloy Entertainment and Jive Records' top Talent. The winner will head to Hollywood for a lead role in Talent the scripted web series and receive a recording contract with Jive Records."
Here is how to get your teen entered for their chance at STARDOM!
1) Choose a song from the song list. Record and upload one song or multiple songs on the list provided. Only one video upload per song will be accepted.
2) Submit your audition video!
3) Vote! Get your friends and family to vote for you by sharing your audition video on Facebook, MySpace, and Twitter.
To read the official rules, learn tips and tricks on a successful audition,  and find more details about Talent click here.
About Talent
"Talent, based on the Alloy book of the same name from The New York Times bestselling author Zoey Dean, tells the story of a young woman whose dreams of becoming a singer are dashed and rises from that disappointment by helping an unlikely girl become a superstar. Talent: The Casting Call and Talent, the web series will be distributed via AlloyTV (www.alloytv.com), a premium, multi-platform digital entertainment network."
Good luck!
[ad#Google Adsense-1]