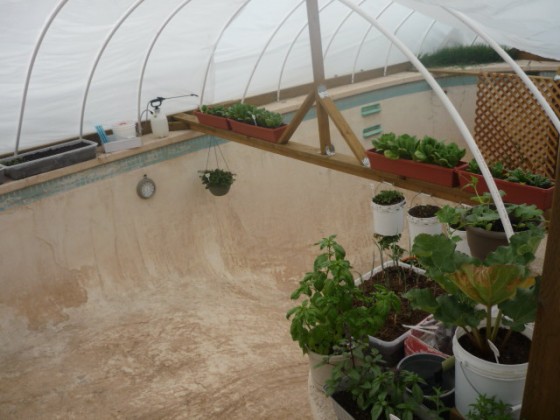 I was doing my weekly snoop at Treehugger and found this very interesting article.   It's about this family of four from Mesa, Arizona who has decided to turn their large run-down backyard swimming pool into an organic food utopia!  The do-it-yourself greenhouse, they call the Garden Pool, produces 8 fresh eggs a day, unlimited tilapia fish, organic fruit, veggies, and herbs 365 days a year. How amazing is that?  The family wanted to completely be self sufficient by 2012, but they have already achieved their goal this year.
Take a quick tour of the Garden Pool.
The family has provided an in depth look at the biofiltration process  and facts on the materials used to make the Garden Pool along with what they grow here.
I have to admit, with this summer heat I would be trying to fix up that pool and diving in!  The greenhouse pool is a wonderful idea of organic at it's best, but you would definitely have to be in the right climate to really make it work.
*photo from GardenPool.org
[ad#Google Adsense]