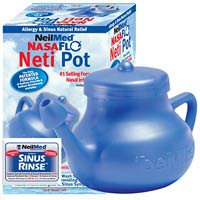 Become a fan of NeilMed Neti Pot and get access to request your FREE NeilMed NasaFlo Neti Pot with two packets!  I've never tried a NasaFlo Neti Pot, so I can't tell you how well its works.  However, the pot is used as a natural method to wash and sooth the nasal passages with saline.
NasaFlo Neti Pot helps alleviate …
• Nasal Allergies & Dryness
• Sinusitis, Rhinitis
• Allergic Asthma
• Post Nasal Drip
• Sinus Pressure & Nasal Stuffiness
• Nasal Symptoms from Flu & Cold
• Nasal Irritation from Occupational Dust, Fumes, Animal Dander, Grass, Pollen, Smoke, & House Dust
• Nasal Congestion
Watch the video to learn more.

Hurry this offer is only while supplies last and will go fast!
*Only new fans are eligible for offer and limit one request per address.
[ad#Google Adsense]