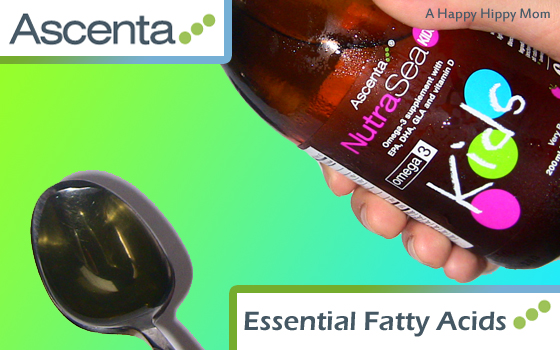 Toddlers prove to be ultimate picky eaters and my son is no exception.  If it doesn't resemble and smell like a chicken nugget he won't eat it.  This is a HUGE problem within my household and his eating habits have had me in literal tears crying and worrying about his nutrition.  Research has shown that essential fatty acids (EFAs) play an important role in our children's development.  But getting him to eat fish 2-3 times a week  would be impossible and while fish oil supplements offer an effective alternative, most of them have a fishy smell plus taste.  I would never be able to get the oil passed his lips!
Ascenta , through Mom Central, recently sent me a bottle of their new NutraSea Kids supplement recommended for children two to thirteen years old.  The supplement  contains GLA, plus omega-6 and  just one daily teaspoon (5ml) of NutraSea Kids provides children the needed omega-3 and vitamin D for their development.  What also makes NutraSea great is it comes in a liquid format and has a delicious very berry flavor.  This allows it to be easily taken on it's own or to be simply added to juice, smoothies, milk and other favorite foods.  My daughter ( age 13) has a very difficult time swallowing capsules, so NutraSea Kids is perfect for her too!
NutraSea Kids is made from pharmaceutical quality fish oil such as anchovies and sardines.  Additionally,  it contains medium chain triglycerides, borage seed oil, evening primrose oil seed oil, all natural flavoring, vitamin E, green tea extract, and vitamin D3.  All Ascentra's products feature the Pure Check logo which means the ingredients have been rigorously tested to ensure purity,quality, and potency by a third-party verification system.  Because NutraSea Kids exceeds the CRN pharmaceutical quality and purity standards, we can feel good about adding it to our children's diet.
I was also sent a bottle of NutraSea +D for myself.  The supplement consists of pharmaceutical quality fish oil (anchovies, sardines, mackerel), all natural flavoring, natural tocopherols, green tea extract, and vitamin D3.  I started taking it a few days ago for the extra benefits of cardiovascular health.   It has a slight green apple flavor and I drop it into my green tea in the morning.
If you would like to learn more about the benefits of essential fatty acids or purchase Ascenta's NutraSea Kids Supplement and the adult version -NutraSea +D for yourself, you can visit the product website here.
"I wrote this review while participating in a blog campaign by Mom Central on behalf of NutraSea Kids campaign and received NutraSea samples to facilitate my candid review. Mom Central sent me a gift card to thank me for taking the time to participate."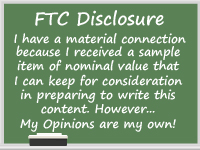 [ad#Google Adsense]