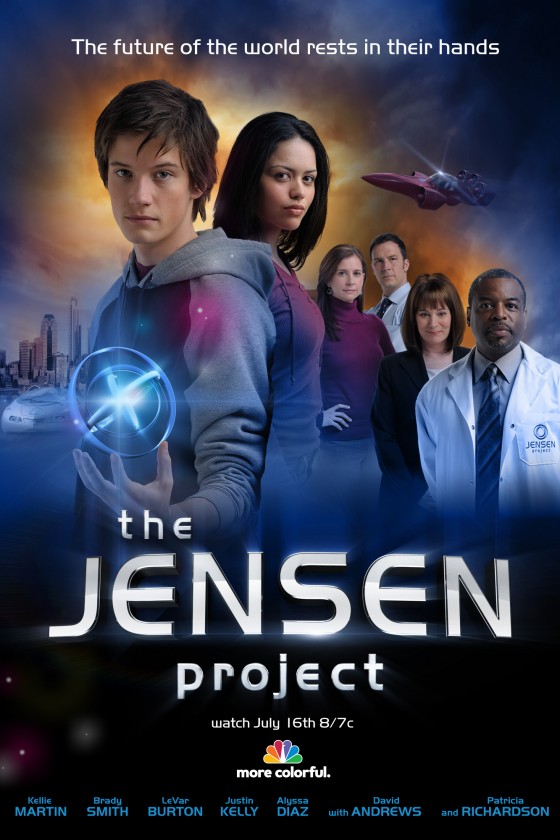 I just wanted to remind everyone that  "The Jensen Project"  is airing tonight at 8 pm.  If your not familiar with the upcoming movie,  it was brought out by Wal-Mart, the largest company in the world and Procter & Gamble, the largest advertiser in the world.  The  goal of the two companies is to  produce TV movies and shows that the whole family can watch together, and create memorable family bonding moments.  Please tune in tonight to show them these type of movies are needed and appreciated.  If millions of families watch The Jensen Project, more family movies with great moral values will get made.
Here is some interesting tidbits about the state of entertainment from www.VoteWithYourRemote.com.
A research study involving more than 100,000 families and conducted by 5 nationally qualified research companies found that:
* With kids spending more than 3,000 hours/year in entertainment (TV, Movies, Games) vs. less than 1,000 hours in school and less than 100 hours in church, parents are voicing some major concerns with the state of entertainment today.
* A child will see an average of 200,000 violent images on television before reaching the age of 18.
* Nearly 80% of parents said they are either very or somewhat concerned that "profanity, inappropriate sexual content and violence on TV programs has had a negative impact" on their children.
* Out of 1,000 primetime Broadcast/Cable shows, parents only rated 18% as "Appropriate" for their children.
* From 1998 to 2005, instances of "Violence" during Primetime increased over 100%.
Scary information?  I think so too!
Wondering what the movie is about?
*Info quoted from press release
"The Jensen Project" is based on a secret community of geniuses conducting underground research to help solve some of the world's most difficult problems. This thrilling science-fiction family movie tells the story of Claire and Matt Thompson, two former scientists who return to The Jensen Project after a 16-year absence.  Together, with their tech-savvy son Brody, the family is thrust into a frantic pursuit to keep a potentially-dangerous technology from falling into the wrong hands. As the family races to stop the group's rogue faction, they rediscover the importance of honesty, courage and being there for one another.
The mother, Claire, is played by Kellie Martin, a veteran actress most fondly remembered for her Emmy-nominated role as Becca Thacher on the ABC series "Life Goes On." The character Kendrick is portrayed by Emmy, GRAMMY and NAACP Award-winner LeVar Burton, who starred in the acclaimed miniseries "Roots," four of the recent "Star Trek" series and the public television program "Reading Rainbow."
Patricia Richardson, known for her role as Jill Taylor on the popular sitcom "Home Improvement," plays Ingrid. Brady Smith, who has appeared in television programs including "ER" and "The Mentalist" plays Matt Thompson. The roles of Brody Thompson and his sidekick Samantha are filled by two young television talents, Justin Kelly and Alyssa Diaz, respectively.
Watch the exciting trailer!
I think it looks really good and will be watching with my two kiddos!

Enter To Win An iPad And Other Cool Prizes!
Sign up to show you support the Vote With Your Remote movement and you will receive up to date news about family programming at the movies and on TV!  PLUS, by signing up you will be entered to win an iPad and other great prizes,  including DVDs, movie tickets, and more!
iPad winner will be chosen on August 31, 2010!
[ad#Google Adsense-1]