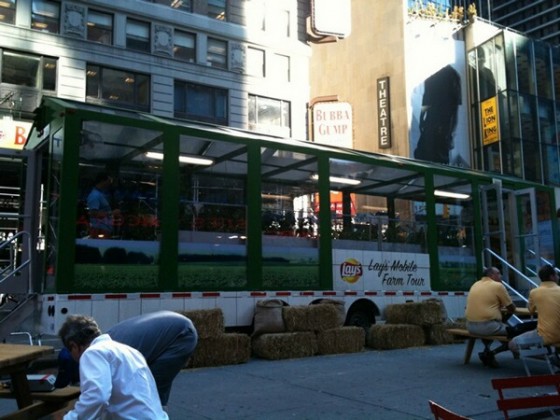 Today marked the first day of the "Lay's Mobile Farm" tour!  The tour, sponsored by PepsiCo,  began this morning in New York City's famous Time Square and then will be traveling to five other major cities throughout the U.S. – Boston, Detroit, Chicago, Los Angeles and Dallas.  What exactly is the Lay's Mobile Farm?  Are you ready for this?  Its a a 70-foot long, 10-foot wide and 14-foot high traveling greenhouse designed to bring a rural farm experience to the center of metropolitan areas across the country. The campaign is a way of recognizing and celebrating the people and communities across the country that produce its line of potato chips.
Visitors to the "Lay's Mobile Farm, will have the unique opportunity to interact first-hand with plants, meet a Lay's potato farmer and enjoy interactive stations. Families who witness the spectacular greenhouse on wheels can also pick up useful take-home educational materials that provide simple tips and fun activities to inspire at-home gardening.
If seeing a 70-foot long traveling greenhouse isn't exciting enough, Lay's  famous potato chip brand will give away approximately 8,000 individual basil plants to people who participate in the farm experience. Plus, at the conclusion of of each city stop, the brand will donate all contents of the greenhouse to local community gardens, resulting in the planting of hundreds of vegetables and fruits in these urban areas.  AWESOME!
"Many Americans are looking for ways to bring a taste of the simple life home and learn more about where their food comes from," said Justin Lambeth, vice president, marketing, Frito-Lay North America. "As a brand that embraces simple happiness and includes just three simple ingredients in our Lay's Classic potato chips, the 'Lay's Mobile Farm' is a natural way for us to deliver that experience to our consumers."
Ultimately,  the mobile tour on it's path through the high-traffic areas of region will provide more than 50 potato, tomato, onion, pepper and basil plants to each of the non-profit groups that are creating and maintaining community gardens. "The selected plants represent some of the all natural ingredients used in six new regionally inspired Lay's potato chip flavors, including Garden Tomato & Basil, which will be available to try at each mobile farm stop."
If you would like to join in on the fun,  the "Lay's Mobile Farm" is scheduled to appear at the following locations:
* New York City – July 26: Times Square / New York Restoration Project
* Boston – July 30: City Hall Plaza / YMCA of Greater Boston
* Detroit – August 5: Tigers Stadium / To be determined prior to event
* Chicago – August 9: Millennium Park / Howard Area Community Center
* Los Angeles – August 17: The Grove / Los Angeles Community Garden Council
* Dallas – August 24: Rangers Ballpark / YMCA of Metropolitan Dallas
The farmers participating in the "Lay's Mobile Farm" tour include:
* Brian Kirschenmann of Kirschenmann Farms in Bakersfield, Calif.: fifth-generation potato farmer whose potatoes have gone into Lay's Potato Chips since 1974 (New York and Los Angeles events)
* Jack Wallace Jr. of Jack Wallace Farms in Edinburg, TX: grower of potatoes for Lay's Potato Chips since 1964 (New York and Dallas events)
* Tom Hoekstra of Hoekstra Potato Farms in St. Anne, IL: a fourth-generation potato farmer whose farm has been growing potatoes for Lay's Potato Chips for nearly 35 years (Chicago event)
* Darrell McCrum of the Maine Potato Alliance in Mars Hill, Maine: a fifth-generation potato farmer who has grown potatoes for Lay's Potato Chips for 23 years (Boston event)
* Brian Walther and Gary Walther of Walther Farms in Three Rivers, Mich.: brothers and third-generation potato farmers whose family's potatoes have gone into Lay's Potato Chips since 1975 (New York and Detroit events)
This sounds like a blast!  I wish I could see it first hand.  If anyone gets to witness the mobile greenhouse,  PLEASE take tons of pictures!
About Frito Lay And PepsiCo
Frito-Lay North America is the $13 billion convenient foods business unit of PepsiCo (NYSE: PEP), which is headquartered in Purchase, NY. Learn more about Frito-Lay at the corporate Web site, http://www.fritolay.com/, the Snack Chat blog, http://www.snacks.com/ and on Twitter at www.twitter.com/fritolay.

PepsiCo offers the world's largest portfolio of billion-dollar food and beverage brands, including 19 different product lines that each generates more than $1 billion in annual retail sales. Our main businesses – Frito-Lay, Quaker, Pepsi-Cola, Tropicana and Gatorade – also make hundreds of other nourishing, tasty foods and drinks that bring joy to our consumers in more than 200 countries. With annualized revenues of nearly $60 billion, PepsiCo's people are united by our unique commitment to sustainable growth, called Performance with Purpose. By dedicating ourselves to offering a broad array of choices for healthy, convenient and fun nourishment, reducing our environmental impact, and fostering a diverse and inclusive workplace culture, PepsiCo balances strong financial returns with giving back to our communities worldwide. For more information, please visit www.pepsico.com.



[ad#Google Adsense]