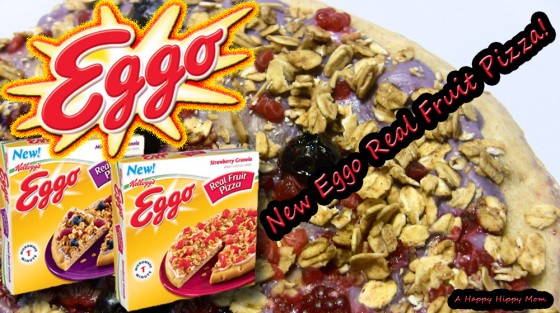 Imagine your children's sweet tiny faces when you tell them they are having pizza for breakfast.  I bet they would move toward the breakfast table much quicker after hearing such shocking news.  No,  I'm not talking about the leftover Pizza Hut pizza from the night before,  but referring to the new Kellogg's Eggo Real Fruit Pizzas that are warming up the frozen food aisles everywhere!
Eggo Real Fruit Pizzas are an all-in-one combination of fruit and warm toasted granola on an oven-baked cinnamon and maple-flavored crust.  The innovative, convenient, and great tasting pizzas are available in two delicious varieties- Strawberry Granola and Mixed Berry Granola.
Mom Central,  on the behalf of Eggo, sent me samples of the pizzas to try.  I placed the Eggo Real Fruit Mixed Berry Granola Pizza on top of the special silver tray (included),  popped it  in the microwave and zapped it for 1 1/2 minutes.  OUCH, it was pretty hot and had to let it cool for a few minutes before serving.  How was it?  Pretty good!  The berries were rather tart and not to sweet.  The crust was softer than I would have liked it to be and next time I will try cooking it in the oven for a crispier crust.   My daughter said she like the pizzas and wanted them in the Fall for breakfast before school.  I think they are also perfect for a quick wholesome  late night snack too.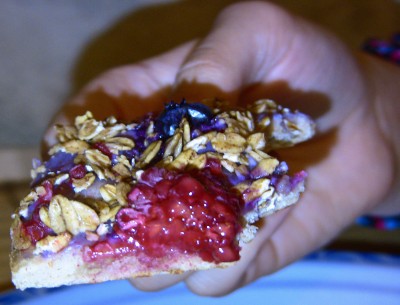 The Eggo Real Fruit Pizzas are an excellent idea for anyone who is always on the go and looking for a quick and tasty breakfast to keep them fueled throughout the morning until lunch.  They cook fast, taste great,  and are easy to grab when heading out the door!
Have you tried them?  What did you think?
"I wrote this review while participating in a blog tour campaign by Mom Central on behalf of Eggo Real Fruit Pizza and received a sample of the product and a $20 Amazon gift certificate to facilitate my review."