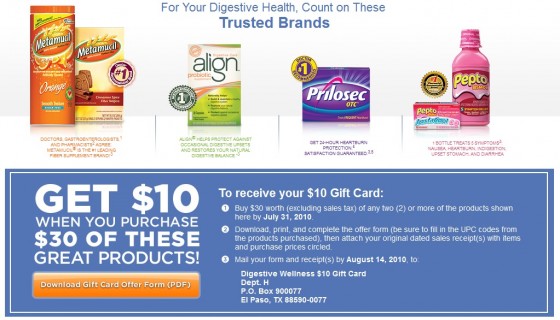 Get $10 back, when you buy $30 worth of any two or more of Proctor & Gamble's GI (Gastrointestinal) brands – Metamucil, Align, Prilosec OTC or Pepto Bismol.
Act fast! In order to take advantage of this fantastic deal, your purchases must be made by July 31st.  To get the rebate form, visit: http://www.digestivewellnessdeal.com.
"Good digestive health is very important, as it affects all aspects of one's life.  But, according to the American Gastroenterological Association, Americans report more than 81 million cases of chronic digestive problems per year."
And, for more information on any of the four products, go to:
Align (http://www.aligngi.com)
Metamucil (http://www.metamucil.com)
Prilosec OTC (http://www.prilosecotc.com)
Pepto Bismol (http://www.pepto-bismol.com)
Thank you Bree G.!