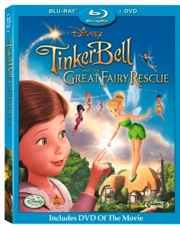 In celebration of yesterday being the first day of Summer and the Summer Solitice,  the Fairies of Pixie Hollow have a very special treat for you!   They are giving you a sneak peak of their latest adventure, TINKER BELL and the GREAT FAIRY RESCUE.  You can watch the full 8-minutes of the film right here!
TINKER BELL and the GREAT FAIRY RESCUE Teaser!
"This particular clip showcases the first time Tinker Bell meets a human for the first time ­ an 8-year old girl named Lizzy. Lizzy discovers that her dream to meet a fairy is finally coming true. She also learns that Tinker Bell speaks in jingles and that fairies can't fly in the rain. It's a very cute piece that showcases the beginning of a very unique friendship."
About The Film

What would you do if you met a fairy? Witness the historic moment when
Tinker Bell first meets a human being, and it's not who you think.

Years before meeting Wendy and the Lost Boys, Tinker Bell met Lizzy, a
little girl with a steadfast belief in the power of pixie dust and the magic
land of fairies. During the fairies' summer visit to the flowering meadows
of England, two very different worlds unite for the first time and Tink
develops a special bond with a curious child in need of a friend. As her
fellow fairies launch a daring rescue, Tinker Bell takes a huge risk,
putting her own safety and the future of all fairykind in jeopardy.

Experience Disney's astonishing all-new movie about the true power of faith
and friendship. Bursting with excitement and imagination, Tinker Bell and
the Great Fairy Rescue is magical entertainment for the whole family. You
might even learn to fly.

Tinker Bell and the Great Fairy Rescue releases as a Blu-ray Combo Pack, DVD
and Movie Download on Tuesday, September 21. The film features the voices of
Mae Whitman as Tinker Bell, Pamela Adlon as Vidia, Kristin Chenoweth as
Rosetta, Lucy Liu as Silvermist, Raven Symone as Iridessa, Lauren Mote as
Lizzy and Michael Sheen as Dr. Griffith (Lizzy's Father).
[ad#Google Adsense-1]