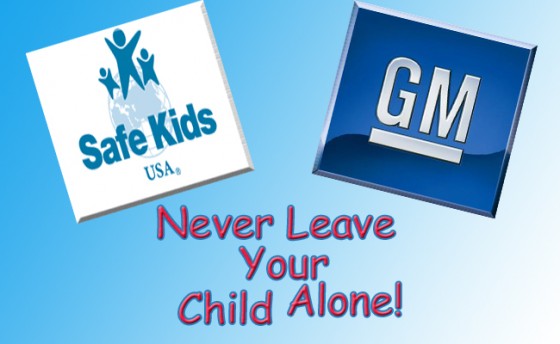 I know most of you are already mommy savvy and don't need common sense instructions on how to care for your children.  HOWEVER,  with that being said,  sometimes we get rushing around and forget to take the simplest precautions and need a little friendly reminder.  With the summer heat upon us,  PLEASE do not leave your children alone in a hot car.  Not even for a second!
Each year, statistics show approximately 37 children die from hyperthermia while left in hot vehicles.   Being a child's body is so much smaller than an adult's,  it can warm three to five times faster making them more susceptible to heat stroke.   Don't let your child become a statistic and safeguard them from the heat.
General Motors and Safe Kids USA have teamed up to create a video, giving tips to prevent these deaths, often caused by distracted parents and caregivers.
Did you know that Within 10 minutes of being closed,  in the daytime,  the inside temperature of a vehicle will be almost 20 degrees hotter than the outside temperature, after 30 minutes it will be 34 degrees hotter?  Yikes!  The video below shows an example of how a vehicle can reach temperatures of over 100 degrees Fahrenheit on a cloudy, 82-degree day.
Here are a few important tips from Safe Kids USA
* Call 911 if they see a child unattended in a vehicle.
* Never leave children alone in a vehicle – even for a minute.
* Set your cell phone or Blackberry reminder to be sure you drop your child off at daycare.
* Place a cell phone, PDA, purse, briefcase, gym bag or whatever is to be carried from the car on the floor in front of the child in a back seat. This forces the adult to open the back door and observe the child before leaving.
* Set your computer "Outlook" program to ask you, "Did you drop off at daycare today?"
* Have a plan with your child care provider to call if your child does not arrive when expected.
* Check cars and trunks first if a child goes missing.
If you have a website or blog,  PLEASE spread the word about the General Motors and Safe Kids USA video plus tips!  We can help prevent needless deaths through education and awareness.
About Safe Kids USA
Safe Kids USA is a member of Safe Kids Worldwide, a global network of organizations with the mission of preventing unintentional childhood injury, the leading cause of death and disability to children ages 1 to 14. More than 600 coalitions in the United States and nineteen member countries worldwide bring together health and safety experts, educators, corporations, foundations, governments and volunteers to educate and protect families.
In partnership with General Motors since 1997, Safe Kids Buckle Up, the child passenger safety program of Safe Kids USA, has inspected 1.2 million car seats; held approximately 60,500 car seat checkup events around the country; donated more than 426,000 car seats to families in need and educated more than 20 million parents and caregivers.
About General Motors Foundation
Since its inception in 1976, GM Foundation has donated hundreds of millions of dollars to deserving American charities and to disaster relief efforts worldwide. The GM Foundation focuses on Education, Health and Human Services, Environment and Energy and Community Development initiatives, mainly in the communities where GM operates. For more information, visit www.gm.com/corporate/responsibility/community.
[ad#Google Adsense-1]