[ad#Google Adsense-1]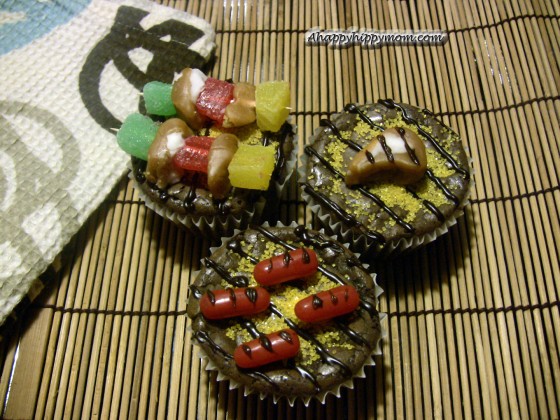 I saw these little treats in the back of the FamilyFun Magazine and thought…what a great way to  honor hubby on Father's Day!  My daughter and I stayed up late last night creating the "Grate Gift For Dad!"   These were so fun to make and we had a blast decorating the cupcakes.   This is a  good activity to get your kids involved in and have them surprise their daddy on his special day.
Grate Gift For Dad Recipe (courtesy of FamilyFun Magazine)
Ingredients
Brownie batter
Black food coloring
White frosting
Orange sugar
Caramel creams
Red, yellow, and green candy fruit slices
Hot Tamales candies
Instructions
1.  To make a batch of 12, place liners in a muffin pan, oil them, and fill them two thirds full of your favorite brownie batter, then bake according to the recipe directions. Let the brownies cool.
2.  In a small bowl, mix one or two drops of black food coloring with 1/4 cup white frosting. Transfer the frosting to a ziplock bag and snip a small section from the corner. Pipe grate lines onto each brownie and let them set for 20 minutes. Add embers with a sprinkle of orange sugar.
3.  Prepare the grill food as instructed below and press it in place atop each brownie.
Kebabs = A caramel cream and red, yellow, and green candy fruit slices, cut into small pieces + toothpick skewers
Pork chop = two thirds of a caramel cream, molded with fingers + black food coloring, applied with a toothpick
Hot dogs = Hot Tamales candies + black food coloring, applied with a toothpick
Instead of the black food coloring and white frosting, I used Betty Crocker Brownie Toppers chocolate icing to make the grate.  I also used yellow sugar for the embers, because I was out of orange.  However, the orange would look much better or even red would be a good choice.