[ad#Google Adsense]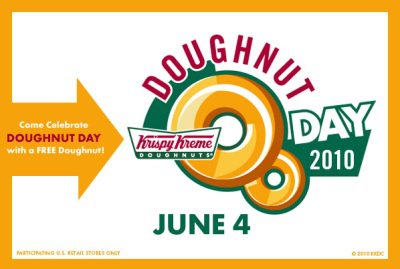 I just learned from RedPlum that Friday is National Donut Day!  Can you believe such a thing?   There is actually a day to celebrate the sugary round snack food.  Apparently, the holiday was started by the Salvation Army as a way to recognize the women who served donuts to soldiers during the first World War and has been in existence since 1938.  Who knew?  Not me!
Here is  the fattening details on how to grab some free donuts this Friday from Krispy Kreme and Dunkin Donuts.
Starting Friday, June 4 from 6:00 am to 6:00 pm,  participating Krispy Kreme locations will be handing free delicious donuts WITHOUT any purchase necessary!  Can you believe that?  Completely free without any strings.  I can feel my waistband expanding already!
Dunkin Donuts will be celebrating the holiday by giving away free donuts from  12:00am – 11:30pm on Friday, but you need to purchase a beverage in order to receive your sugary goodness.  This isn't a problem for me,  since I can't walk out of there without a cup of joe anyways.
Check your other local donut shops!  They might be participating in the National Donut Day celebration too!