Have you seen the new Shrek Forever After Video Game By Activision?  It's so awesome!  The game is based on the DreamWorks Animation's final chapter Shrek movie that is being released in theaters today.  If your a big fan of the green lovable ogre,  this game won't disappoint you.  The 4-way multiplayer lets you team up with your friends as you work together to solve exciting puzzles and navigate through challenging mazes.  Play and switch between Shrek, Puss In Boots, Donkey and Fiona to out-wit, out-fight, and out-play that sneaky Rumpelstiltskin.
Each character has their own unique abilities and fighting moves to combat enemies.
Shrek uses his strength to carry heavy items and push around barrels, boxes, and statues.  He unleashes a fierce roar in his special attack mode and causes his enemies to shiver in fear.
Fiona has special powers to be able to use fire to light explosives and clear anything in her path.  She also can light magical cauldrons in puzzle solving.  With a touch of her nose, she lets out an ogre blast to stun her opponents.
The chubby Puss In Boots can climb walls, leap long distances to get to high places, and is a master with catapults.  His talent of being adorable can temporarily disarm his enemies.
Donkey has a powerful kick that can crush locks, launch boats, and move heavy equipment.  His super annoying singing voice causes his opponents to cover their ears that leaves them vulnerable to his forceful kicks.
For double the fun and adventure,  you can use the magic mirror to shift back and forth from Shrek's normal world and his new alternate reality as he tries to defeat Rumpelstiltskin and claim his true love.
The game is available for the Wii, Nintendo DS, Xbox 360,  Playstation 3, and PC.
On behalf of Activision, Mom Central sent me the Shrek Forever After Video Game to test.  My daughter and I have been playing the game for the past two days.  This is a VERY fun game and its not to difficult, but challenging enough to keep your interest.  We are having a blast playing it together and alternating between the cute characters.  The graphics on the PS3 platform are so INCREDIBLE that its hard to believe its a game and not an actual movie. Check out the images below!
Along with the game,  I was sent a Shrek Forever After Mad Libs and story book.  In the Mad Libs game there  are stories containing blank spaces where words are left out.  The object is to have the reader select one of the stories without telling anyone what the story is about.  Then the reader asks the other players to give him/her words to fill in the appropriate fields such as adjectives, nouns, verbs, or whatever the space calls for and uses them to fill in the blank spaces in the story.  The result is a fun, fantastic, silly, shocking, crazy or just plain dumb story!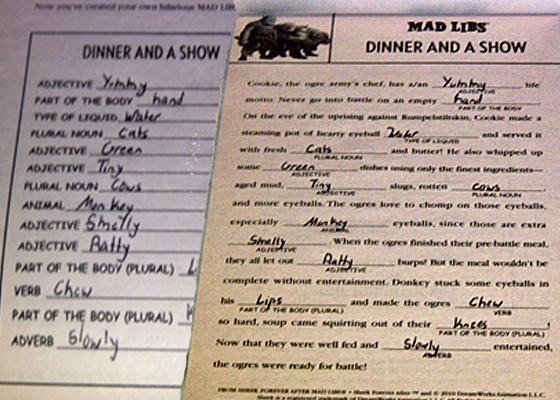 I would tell you more about the story book, BUT my daughter asked for me not to read it until after I see the movie.  She didn't want me to spoil the ending! LOL!  I did glance at the pictures and the book is beautiful.
If your family happens to be Shrek fans,  the Shrek Forever After Video Game,  Mad Libs,  and story book are extremely entertaining.  The items are a great way to get everyone involved in the ogre fun!
"I wrote this review while participating in a blog tour campaign by Mom Central on behalf of Activision and received the items necessary to facilitate my review. In addition, Mom Central sent me a gift card to thank me for taking the time to participate."