[ad#Google Adsense]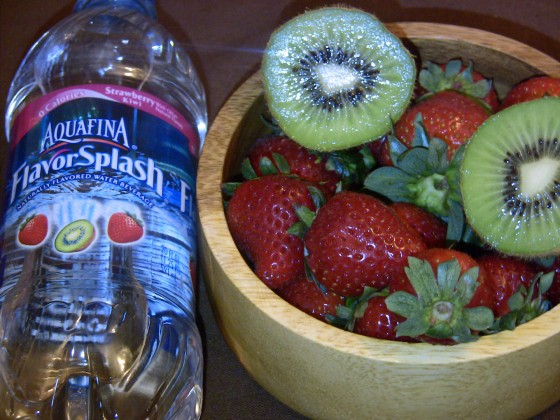 The Aquafina "flavor your day" beverage of the week is Aquafina FlavorSplash Strawberry Kiwi!  Yummy!
Strawberries and Kiwis make a delicious combination and are so good for you too!  Strawberries happen to be loaded with nutrients and contain significant levels of phytonutrients and antioxidants, which fight free radicals.  They  provide an excellent  source of  vitamin C,  vitamin K, manganese,  folic acid, potassium, riboflavin, vitamin B5, vitamin B6, copper, magnesium, and omega-3 fatty acids.  Wow,  all that goodness packed in a little strawberry!
Eating the Kiwi fruit has several health benefits.  The fruit is sweet with a mild sour taste and is rich in many vitamins, flavonoids and minerals.  Kiwi actually contains more vitamin C than oranges!   It also has a significant amount of vitamin A,  vitamin E, phosphorus, magnesium, potassium, and copper.  Additionally, the fuzzy fruit has been found to reduce asthma and upper respiratory symptoms.  PLUS, by eating Kiwi you can get a good tasty amount of fiber that will leave your tummy feeling fuller longer.
Now that we know the benefits of eating Strawberries and Kiwis, how do we get our kids to eat them?  I found the trick to getting my kiddos to eat more fruit is to make it fun.  Food art is always a favorite activity and gets them interested in fruit.  Familyfun.com is a wonderful source of kid friendly recipes,  and the first place I look for to find creative ideas.  Check out the cool Strawberry mice and Kiwi characters my daughter and I made yesterday!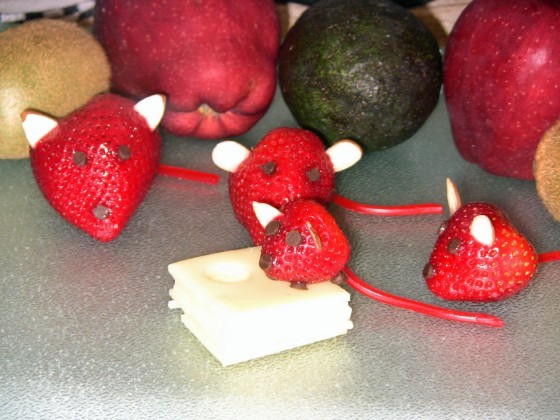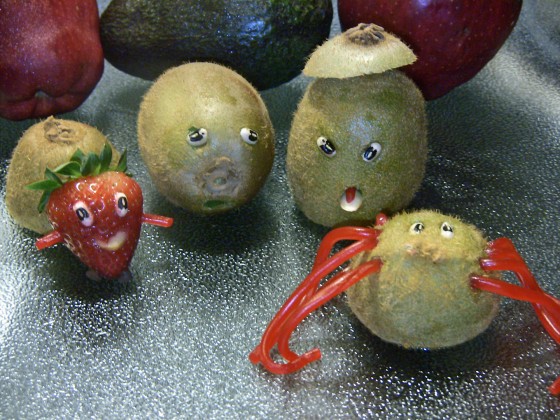 To make the mice all you need is some fresh ripe strawberries, almonds, mini chocolate chips,  string licorice, and cheese (optional).  The kiwi characters are made with kiwis, sliced almonds, black eyed peas, and string licorice.  Food art is such a low cost entertaining project and children love to help!
Another great way to get kids to eat more fruit is to be sneaky and place it in cakes, yogurts, muffins, and other yummy kid favorite foods.  The main object is to keep it fun and enjoy the best Mother Nature has to offer.
SAVE
Download a coupon good toward $1 off a 6-Pack of FlavorSplash: http://bricks.coupons.com/bstart.asp?o=62676&c=AF&p=bIDTjXgY
"I am a participant in a Mom Central campaign for Aquafina FlavorSplash and have received various FlavorSplash samples to facilitate my participation. Mom Central will send me a gift card at the end of the program."