[ad#Google Adsense]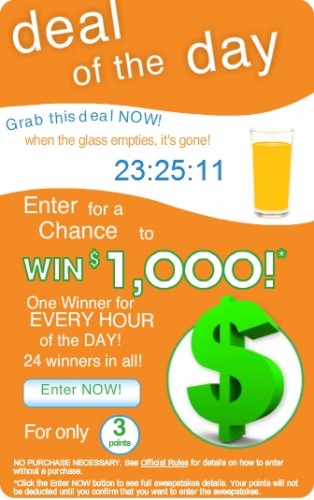 Did  you check out Tropicana Juicy Rewards Deal of the day?  For the next 24 hours you can cash  in 3 of your points for the chance to win $1000!  The fantastic news is there is one winner for every hour of the day.  24 WINNERS IN ALL!
If you don't have a Tropicana Juicy Rewards account this would be the perfect time to sign up.  Visit http://juicyrewards.tropicana.com and following instructions to get your free account.  To obtain points to enter the giveaway, purchase any specially-marked Tropicana, Tropicana Pure Premium or Trop50 product.  Look for the unique 10-digit alphanumeric code  on the outside or under the cap of the product.  Each Code is worth the Tropicana Juicy Reward Points stated on the package.
You can also enter the giveaway without making a purchase by mailing in your entry.  All you need to do is hand print your name, complete address with zip code, daytime phone number and date of birth on a 3″x5″ card and mail in an envelope to: Tropicana Juicy Rewards "$1000 Deal of the Day" Sweepstakes, P.O. Box 1002, Young America, MN 55594-1002.   Make sure your entries are  postmarked by April 30, 2010 (TODAY) and received by May 7, 2010. There is a limit of one  entry per outer mailing envelope, but each mail-in entrant will receive three entries per envelope!
WOW, I could really use $1000!  I'm sure you could too?  I believe the odds on this sweep are going to be fairly good, since it is only open for 24 hours!  Good luck!!!