Before I announce the winner I just wanted to thank the Skin MD team for giving me the opportunity to review the Skin MD Natural Shielding Lotion!  I'm  HOOKED on the lotion and LOVE it.  My bottle is almost gone (thanks to hubby also using it) and I will be purchasing some more.  I wish I could find it locally and hope to see the lotion available in the stores here in NY!
Now for the winner results…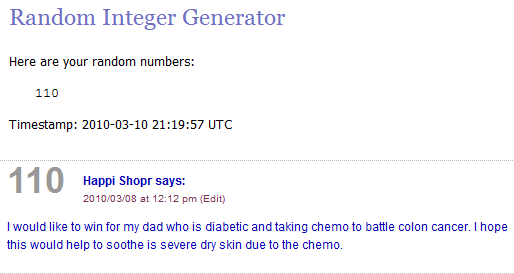 Congrats to Happi Shopr!  Please respond to my email within 72 hours to claim your prize.
Thank you to all the readers who entered and please don't hesitate to request your free sample of Skin Md Natural Shielding Lotion!  I love the lotion and hope you will like it too!