[ad#Google Adsense]
Snacking is a BIG downfall for me.  I find myself reaching for goodies that are high in fat, sugar, and empty calories throughout the day.  Then I feel guilty for over indulging  and wonder why my butt cheeks look like two watermelons stuffed in a sausage casing.  It's not a pretty sight.  The problem is I have too many unhealthy snacks  available for me to grab and I never stick to to just one serving.  I  need to clear out my cupboards and replace the fattening junk with low fat satisfyingly healthier foods  (like KooLoos) and maintain better portion control.
When Seapoint Farms contacted me to ask if I would be interested in sampling KooLoos – a new snack that was packed with organic roasted soybeans and organic ground flaxseed, I immediately said,  "ummmmm …..YESsssss!"
Here is why…
Flaxseeds  are an excellent source of omega-3 essential fatty acids and lignans (cancer fighters).   The seeds are also a good source of fiber, B vitamins, magnesium, manganese, and have been found to contain many health benefits including weight loss.  PLUS, I happen to love the subtle nutty flavor of flaxseed so I was very interested in trying KooLoos.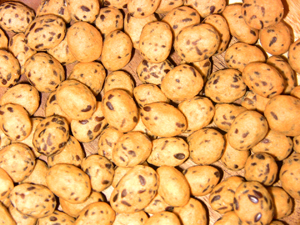 Being that  KooLoos have 60% less fat than peanuts, 3 g of dietary fiber per serving, and 20 mg of isoflavones from soybeans in each 30 g serving,  they make a great alternative snack choice.   Not to mention they are:
Rich in Omega 3 Fatty Acid
A good source of soy protein
Heart-healthy
Cholesterol-free
Trans Fat-free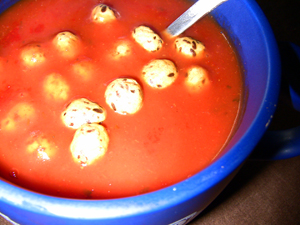 The crunchy, all natural bite size snack  is as fun to say as it is to eat and available in three distinct flavors – Original, Honey B.B.Q. and Salsa.  I tried all three varieties and found the Original flavor to be my favorite.  The little round baked balls have a good earthy taste and unique  texture unlike anything I have ever tried before.   I dropped a handful of the KooLoos  in my soup and thought they added a nice complementary delicious zing.   The Salsa (spicy) and B.B.Q. (sweet)  KooLoos are  good too and  would be great in salads, a snack mix, or straight out of the bag.
What I also like about KooLoos is the 3.5 ounce pouch they come in.  Its the perfect size for popping into your backpack, purse,  or car  and ready to be opened when ever the snacking urge strikes!
About Seapoint Farms
The Seapoint Farms Story

Seapoint Farms is the largest importer and manufacturer of edamame products in the United States, offering high quality, good tasting and convenient edamame vegetable products and snacks.

Seapoint Farms began in 1996 as the first American company to pioneer edamame into the American supermarkets and health food stores.  Seapoint Farms has been instrumental in the public's early education and awareness about the health benefits of edamame.  The Seapoint Farms brand has gained national success and is now the leading brand of edamame in Supermarkets throughout the U.S.

When the FDA concluded in 1999 that foods containing soy protein included in a diet low in saturated fat and cholesterol may reduce the risk of coronary heart disease by lowering blood cholesterol levels, Seapoint Farms became a vehicle for bringing soy's health benefits to consumers in great vegetable options.

In January 2007, Seapoint Farms signed a multi-year licensing agreement with Nickelodeon/Viacom and created an all new line of Thaw and Serve – Organic Kid's packs of edamame with Dora the Explorer shelled edamame and SpongeBob SquarePants edamame pods.  Seapoint Farms believes that a great and healthy future for our children begins with eating the right way from the very start!

Seapoint Farms uses only non-GMO (non-genetically modified organism) soybeans. Seapoint Farms products retain their naturally-occurring levels of healthful isoflavones and include the same soy protein proven to reduce the risk of heart disease by lowering blood cholesterol.

Seapoint Farms' mission is to provide all natural, delicious and convenient edamame food products that make it easy to incorporate the benefits of soy in your everyday diet.
Buy It
kooLoos can be found at health and mainstream food stores nationwide for an MSRP of $1.99 to $2.29. For more information, please visit www.seapointfarms.com.
Check out Seapoint Farms KooLoos on Facebook!
disclosure :   Seapoint Farms provided me with samples for review purposes. No further compensation was received.    Even though a free product was received,  the opinions were of my own