Get ready, get set, and go!  The new Handy Manny Big Race will air on the Disney Channel March 20 at 7pm/6c!  Sit down with your preschooler this Saturday and join Handy Manny in the action-packed adventure as Manny and the gang gear up for the Wood Valley 500 car race.  First Manny (Wilmer Valderrama),  the Tools, and their friend Elliot must find away to revamp Elliot's broken-down race car into a cool speed machine.   Can they do it?  It will take determination, teamwork, elbow grease,  and some awesome driving skills to win the race!   Tune in to see what happens as famous race car driver, Chase Davis (Earnhardt, Jr.) jumps in to help.
Aiden loves Handy Manny and enjoys playing with several of the Handy Manny toys so this episode is right up his speed track!   We will be making Saturday a fun family Handy Manny theme night and plan on doing some cool activities before and after the Big Race debut.
If you would like to get involved in the fun there is several great activities to make the night more exciting for your  kiddo that can be found at the Disney Handy Manny Playhouse and on the Handy Manny Facebook Page including
Handy Manny Big Race Online Game
Play the Handy Manny Pit Stop Shop and build a race car.
Manny's Big Race Coloring Sheet
Handy Manny and race car ready to be printed and colored.
Help Manny drive is car to Victory Lane
Snack recipes for tasty Handy Manny treats!
Watch The Handy Manny Big Race Trailer
Racing Stripe Veggies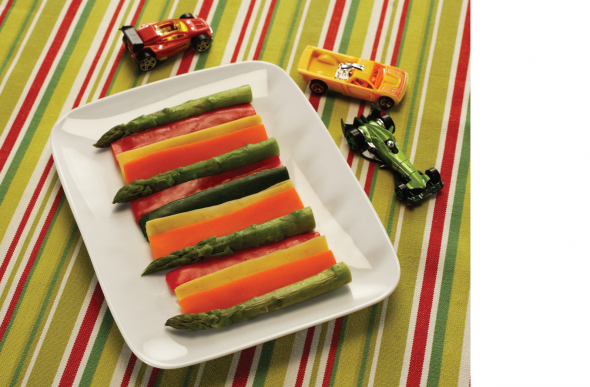 Ingredients:
1 red bell pepper, cut into 1/2-inch slices
2 yellow or crookneck squash, cut into 1/2 inch
slices
1 medium zucchini, cut into 1/2 inch slices
1 large carrot, peeled and cut into 1/2 inch slices
1 bunch asparagus
Directions
1. Trim all vegetable slices the same length (i.e., 3 or 4 inches long). Trim asparagus the same length.
2. Bring 1 inch of water to a boil in a medium saucepan over high heat. Insert a steamer basket, add all
vegetables, cover and reduce heat to low. Cook until vegetables are tender, about 3 minutes.
Makes 4 servings.
REMINDER TO SELF: Ask parents if children have any food allergies!
* photo and recipe was borrowed from Playhouse Disney
About Handy Manny
"Launched in 2006, Disney's Emmy-nominated animated series "Handy Manny" shares the adventures of Manny, a bilingual handyman, and his talking tools. Geared toward preschoolers, the show helps kids learn important lessons like problem solving and working together while introducing them to Latin culture and common Spanish words and phrases."
"I wrote this review while participating in a blog campaign by Mom Central on behalf of Playhouse Disney. Mom Central sent me a gift card to thank me for taking the time to participate."