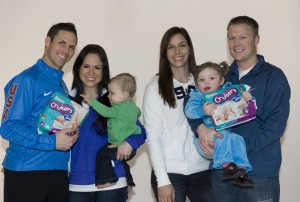 To celebrate the upcoming Vancouver 2010 Olympic Winter Games, Pampers Diapers has partnered with Team USA to introduce their new high performance Pampers Swaddlers and Cruisers Diapers with Dry Max.  The babies of Team USA athletes 2006 Olympic gold medal speed skater, Chad Hedrick and 2007 World Skeleton, Noelle Pikus-Pace, will be sporting the new Pampers Cruisers Diapers with Dry Max as the families head to Vancouver!   You can follow the two families as they share their Vancouver experiences from their "babies' point of view" throughout the Olympic Winter Games on Pampers.com through photos and videos .
"For many athletes, bringing home an Olympic medal is not just their dream, it's a shared dream of their entire family," said Jodi Allen, Vice President of North America Baby Care at Procter & Gamble including Pampers Diapers. "We are so proud to partner with these world-class athlete families, who are also parenting inspirations by training and succeeding while raising young, active children. We could not think of a more appropriate event than the Olympic Winter Games to celebrate babies as the world's greatest players and introduce our new high-performance gear – Pampers Swaddlers and Cruisers Diapers with Dry Max."
You might not know it,  but babies demonstrate that they are some of the best little players in the world.  In fact,  a cruising baby in one day can take as many steps as a marathon runner,  and a nine month old baby can crawl up to 400 meters in just 20 minutes.  WOW,  now you know why your so tired after a day of chasing your tiny athlete!
"Pampers is delighted to give all babies the chance to be awarded for their everyday medal-worthy performances," Allen said. "The technology incorporated into new Pampers Cruisers Diapers with Dry Max makes them 20 percent thinner than before and our driest diaper ever, providing game-changing improvements to babies in terms of performance and comfort, permitting them to be the best players they can be!"
The Team USA diapers are not for sale, BUT starting tomorrow morning January 29th you can request a free sample three-pack of Pampers Cruisers with Dry Max on Pampers.com.   Oh and the FUN part is if the the sample sent includes a diaper stamped Team USA, (randomly inserted in select sample packs), your baby will win a year's supply of Pampers diapers! The samples are going to go SUPER fast so make sure to act fast and request yours as soon as possible!
"The new Pampers Cruisers with Dry Max helps lock wetness away up to 12 hours, making this their driest diaper ever. The new Pampers Cruisers with Dry Max officially hits shelves in March!"
"Pampers Swaddlers and Cruisers Diapers with Dry Max – Biggest Innovation in 25 Years"
"Pampers Swaddlers and Cruisers with Dry Max are the brand's new high performance diapers and the biggest innovation for the Pampers brand in the last 25 years. Pampers Diapers invented the Dry Max technology and applied it to the current Swaddlers and Cruisers core, which allows the diaper to be thinner than before. This game-changing diaper – Pampers' driest ever – helps lock wetness in for up to 12 hours and its less bulky design helps give flexibility and comfort – perfect for all of babies' play. The new diaper design also helps families reduce their impact on the environment by containing 10 percent less material weight. In fact, if current North American Pampers Swaddlers and Cruisers users switched to the new Pampers Cruisers Diapers with Dry Max diaper, they could together throw away the weight of 1 billion less diapers every three years (based on 08/09 volume for Swaddlers/Cruisers)."
"Pampers Swaddlers and Cruisers Diapers with Dry Max will be available at retail across the country beginning in March 2010. Product will be available at mass, discount, baby specialty, grocery stores and online retailers where Pampers products are sold, with the same retail pricing as the current Pampers Swaddlers and Cruisers Diapers (pricing is at the sole discretion of the retailer)."
"For more information, please visit www.Pampers.com."
"About Pampers® Diapers"
"Pampers is a trademark of Procter & Gamble (NYSE:PG) and the company's largest global brand and is the world's top-selling brand of baby diapers. Our business is inspired by babies and toddlers, created by Pampers. For more information on Pampers diapers and the Pampers Parenting Network, visit www.Pampers.com."
"About Procter & Gamble (NYSE:PG)"
"Four billion times a day, P&G brands touch the lives of people around the world. The company has one of the strongest portfolios of trusted, quality, leadership brands, including Pampers®, Tide®, Ariel®, Always®, Whisper®, Pantene®, Mach3®, Bounty®, Dawn®, Gain®, Pringles®, Charmin®, Downy®, Lenor®, Iams®, Crest®, Oral-B®, Duracell®, Olay®, Head & Shoulders®, Wella®, Gillette®, Braun® and Fusion®. The P&G community includes approximately 135,000 employees working in about 80 countries worldwide. Please visit http://www.pg.com for the latest news and in-depth information about P&G and its brands."
*facts quoted from Pampers.