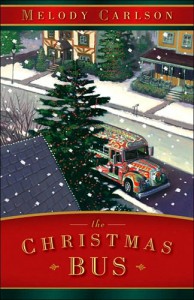 I need to get myself a Kindle!  I'm missing out on all these FREE cool book downloads.  Amazon.com is offering The Christmas Bus,  by Melody Carlson, eBook for FREE.
Product Description
"The people of Christmas Valley always celebrate Christmas to the fullest extent. The mayor plays Santa, every business is holiday themed, and there's a nativity for the kids each Christmas Eve. This town knows Christmas. But this year nothing goes according to plan. Shepherd's Inn is full of strangers, Mad Myrtle is causing problems, and a young couple with a baby due any minute rolls in to the middle of town in their Partridge Family-style bus. It's hardly the holiday Christmas Valley wanted–but it may be just what they need. This charming novella is sure to become a new Christmas tradition for readers who love a great holiday story."
The book usually sells for $14.99 and can be downloaded for free here.