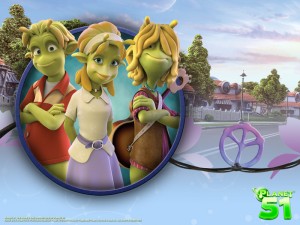 I can't wait to see the movie Planet 51!  The animated alien adventure comedy is coming to theaters November 20th! .
The movie revolves around an American astronaut named Charles "Chuck" Baker (Dwayne Johnson), who lands on Planet 51 and believes he is the first person to ever step foot on it.  Soon after his arrival,  Chuck  is surprised to learn there is a whole galactic race of little green people who inhabit the planet and live in a "white picket fence world" similar to the cheerful America 1950's era.
The tiny extraterrestrials are consumed with extreme paranoia that their universe is going to be taken over by alien invaders…like Chuck!  Captain Baker relies on his robot companion "Rover" and his new friend Lem (Justin Long) to help him navigate his way through the perplexed landscape of Planet 51 in order to escape becoming a permanent fixture of the Planet 51 Alien Invaders Space Museum.
Watch the trailer below!