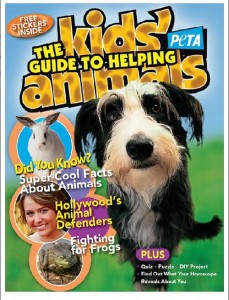 PETA is offering a FREE Kids' Guide To Helping Animals magazine.  The magazine contains great tips on  protecting wildlife, organizing fun animal friendly field trips for the class, and useful information about buying cruelty-free products.
Kids can also get the scoop on why Miley Cyrus and other Hollywood celebrities are helping animals.  PLUS, the guide has plenty of fun puzzles, quizzes, and stickers too!
The first 500 people to request the Kids' Guide To Helping Animals magazine will also receive the recent issue of Grrr!  Magazine !
To get your free guide and get your kid on the way to being a hero for animals, go here and fill out the form.