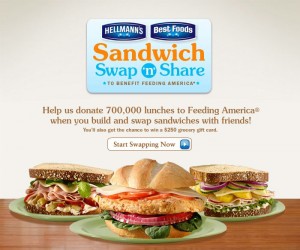 I can remember swapping sandwiches in school with my best friend Kelly.  Her mom would make the best Salami and Swiss Cheese on wheat bread with spicy mustard sandwich.  It was so delicious compared to my boring PB&J!  We would exchange our brown bagged lunch at the cafeteria table almost everyday like it was a ritual.   She downed my PB&J while I ate her Salami and Swiss Sandwich,  and we both left lunch feeling happy and satisfied.
Hellmann's and Best Foods Mayonnaise has taken the swapping lunch tradition and teamed up with Mr Achy Breaky Heart  (musician and actor Billy Ray Cirus) and launched a new Sandwich Swap 'n' Share program.  The program encourages people of all ages to celebrate the childhood ritual and in the process raise money to support Feeding America,  the nation's largest domestic hunger-relief charity.
How the Sandwich Swap 'n' Share program works…
You can join in the program to help donate 700,000  lunches by going to Facebook.com/hellmanns and building your virtual sandwich.  When your done building and naming your hunger fighting creation,  just swap and share it with a few of your Facebook friends.  For every sandwich you make 7 lunches will be donated!  If that is not enough to get you to slap some virtual bread together—each sandwich you create will automatically enter you for a chance to win a $250 grocery store gift certificate!
Here is my Salami and Swiss Cheese Stacker…