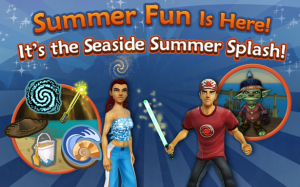 Summer fun has arrived just in time at Free Realms to kick off the 4th of July weekend!  Players can visit Seaside to check out some cool fireworks for the holiday and participate in quests to earn Seaside Stickers that can be redeemed for fireworks, wearables, and other special items.   Additional activities include a TGC scenario to win an exclusive Star Shot Candle item, various repeatable minigames, and fans can find new exciting items  at the Marketplace.
Free Realms is also rewarding members with a bonus Summer Sparkler Bundle.  Members must log in to claim the sparkler set by 11:59 PM PDT on 7/12/2009.
New Marketplace Items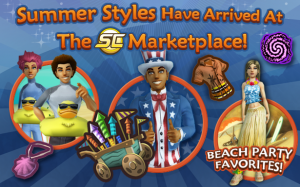 The new items added to the Marketplace for the Seaside Summer Splash Holiday celebration include;
Palm Tree Island Shirt
Sand Castle
Uncle Sam Outfit
Hula Outfit
Ducky Floaty
Follow Free Realms on Facebook
Follow Free Realms on Facebook to get up to date game news and a weekly code to claim  in-game items.  This week's code is FBREDSPARKLER for a unique Red Sparkler!
"To redeem the code, click www.FreeRealms.com and enter it into the Redeem-A-Code box in the "Enter Code Here" field, click the green Go! Button, and get into the game!"
Video on how to redeem codes
For past codes visit FreeRealms Insider!