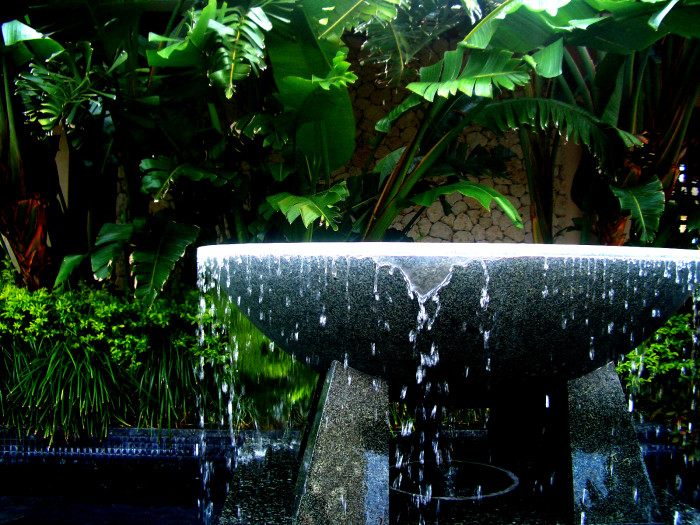 What if you could turn back the clock, smooth out those fine lines and wrinkles, and look younger?  How far would go to take 7 years or more off your face?  Those questions are the reason the internet is flooded with anti-aging tips, procedures, and products promising they are the Fountain of Youth. Personally, I would love to improve my appearance and gain a more youthful glow, as I am sure most of you would like to as well.  However, being economically challenged and suffering from a wee bit of trypanophobia, I cannot afford any costly cosmetic procedures and detest the thought of Botox needle injections!  Therefore, I am always searching for affordable products that slow down the aging process and restore a younger appearance to my face.
One respected source I turn to for anti-aging information is Dr. Oz.  I find the good doctor to be always knowledgeable and up-to-date on the latest, best anti-aging and longevity trends.  Back in February of this year, Dr. Oz did a show about cheating your age and shared some great tips on looking younger.  He featured a guest named Diana who was 44, but looked nearly a decade more than her actual age.  Diana was suffering from severe crow's feet and bags around her eyes.  Not being able to afford a facelift, Diana just accepted the fact she looked much older than she actually is.  Instead of recommending intrusive procedures, Dr. Oz suggested she apply a product containing a 5-10% concentrate of Argireline.  Then he showed a snapshot of what she would look like if she used Argireline around her eyes.  The difference was amazing!
Argireline, is a needle free, "gentler version of Botox" that you can apply yourself.  Much like Botox, Argireline inhibits the reactions that cause muscles to move or contract.  The non-toxic, anti-wrinkle peptide was shown to significantly reduce wrinkle depth when it was applied to healthy women volunteers.
SkinPro Elite Serum
A company well known for pioneering the use of Argireline and other laboratory-tested ingredients is Skin Pro. Makers of the market-leading Elite Serum, have been educating consumers about Argireline and its anti-wrinkle effects since 2009.  Their eye serum "contains an extremely effective, highly concentrated blend of pharmaceutical-grade peptides and nature's most potent moisturizers."
Elite Serum Features:
Formulated with the highest concentration of pharmaceutical-grade ingredients.

Rich seaweed extract base as used by the world's most expensive serums.

Contains scientifically advanced peptides proven to cause DNA rejuvenation.

Delivers a youthful and vibrant appearance around the eyes.

Rapidly brings oxygen and nutrients to the eye area.

Reduces the appearance of dark circles and puffiness.

Diminishes the appearance of fine lines and wrinkles.

Feel the difference directly under and around the eye area within minutes.

Ultra-lightweight and fast-absorbing application.

No injection needed. It works on areas where the botulinum toxin solution can not.

A Cooling, hyper toning sensation indicates that the serum is working.

Scientifically designed as hypoallergenic, non-sensitizing and non-irritating.

Can be used safely and beneficially in conjunction with other skin care products.

Ability to work alone as needed as a powerful eye serum.

Manufactured in the USA in an advanced FDA licensed pharmaceutical laboratory.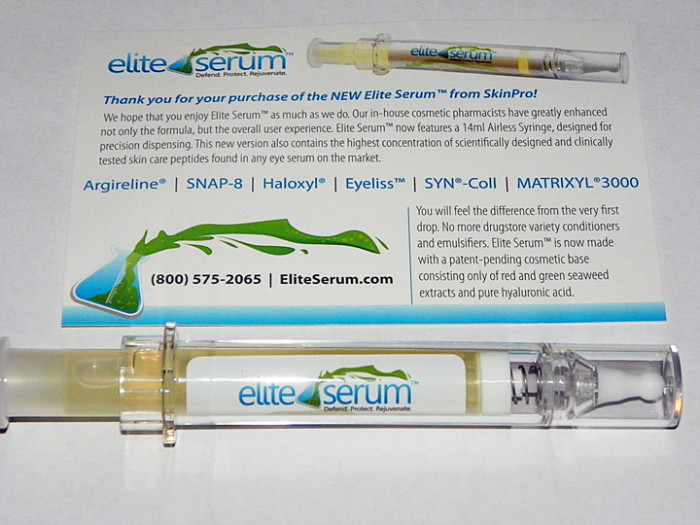 I received a full unit (40-65 day supply) of Elite Serum to test out!  The serum comes in a 14ml Airless Syringe, designed for precision dispensing.  The formula is a combination of unique DNA precursor pool peptides including Acetyl Hexapeptide-3 (Argireline ), octapeptide SNAP-8, Palmitoyl Tetrapeptide-7 (Haloxyl), Eyeliss (a combination of three active peptide molecules ), Matrixyl 3000, and SYN-Coll.  The patent-pending cosmetic base consisting of only red and green seaweed extracts and pure hyaluronic acid  is intended to effectively reduce the appearance of fine lines, dark circles, crow's feet and puffiness around the eyes.  All the nasty things I would LOVE to rid my face of!  Additionally, Skin Pro claims with regular use Elite Serum will significantly improve tone, firmness and skin elasticity while restoring a youthful looking eye contour for users of all ages! Sounds good?
I cannot give you any miracle stories as of yet, since I have only been experimenting with Elite Serum for about a week's time. But, I am ecstatic to be trying it out and excited to see if the ingredient Argireline works for me like Dr. Oz said it would for Diana. What I can tell you is–I like the way Elite Serum makes my skin feel! And it has made a significant improvement in helping reduce the puffiness beneath my eyes. Plus the serum goes on smoothly, absorbs super quick, and does firm the under eye area.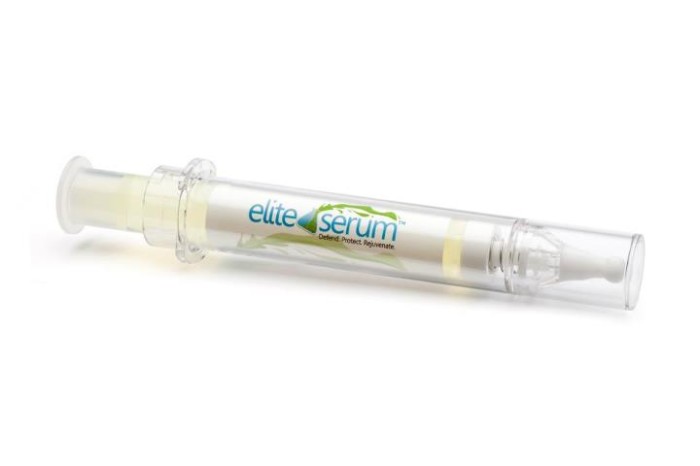 I would like to take a moment to give particular constructive criticism about the product. I do apologize to the SkinPro designer of the Elite Serum packaging, because I know it must have taken some creative juices to develop such a neat concept of placing the formula in a syringe. However, I had difficulty trying to get the thing to work. Maybe it was the handler (meaning me), but when I tried pushing it to apply the serum nothing would come out at first. Then when I did get it to dispense the serum I felt as if I did not have full control over the amount being pushed out. Eventually with a bit of practice I did get the hang of using the applicator syringe. I do wish they would have saved the money on the sophisticated design, cut the price to reflect the reduction, and just placed the serum in a regular tube. Not to mention, for someone who does not like the look of needles or medical devices of any sort the syringe might be a cause of dismay. In my opinion, the product ingredients speak for themselves and do not need fancy bottling to be noticed. Maybe a good idea would be to offer the 14ml Airless Syringe for an additional price for the individuals who like the look and want to take the guess work out of the exact amount to use, but also make Elite Serum available in a regular dispensing tube for a lower cost?
Now for the fun part! One lucky reader is going to win their very own full-size unit of Elite Serum! $89.95 value!
Buy It!
SkinPro Elite Serum is available for purchase at www.eliteserum.com ($89.95) and Amazon.com ($89.99)!
Stay Connected With Elite Serum
Visit the Elite Serum Website
Like the Elite Serum Facebook
SkinPro Elite Serum Giveaway!
Courtesy of SkinPro, a lucky reader will win a full unit of Elite Serum! To enter the giveaway, please follow the instructions provided on the Rafflecopter form. Any comments are welcomed below, but won't count towards the giveaway. Only entries using the Rafflecopter form will be eligible for prize. Thank you!
[field name= iframe]