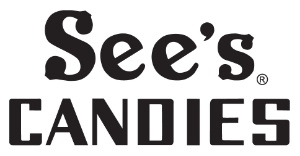 The joys of candy!  Ask a young child about their favorite candy and you'll instantaneously see their face illuminate.  When I was a kid (still am at heart)  I use to look forward to visiting the neighborhood candy shop and getting Old Fashioned Hard Candy Sticks out of the huge jars.   My parents would bring me there as a reward for accomplishing all of my chores or for getting good grades on my report card.  The experience remained with me over the years and I developed a substantial fondness for sweets.  However, as an adult candy enthusiast my preference has evolved into a considerably more sophisticated style of candy and I prefer something gourmet such as dark chocolate nut chews.  Yet, I still seek out the candies which have that old time feel and goodness!
See's Candies
See's Candies inquired if I would be interested in sampling some of their delicious candies. After looking at the large,  mouthwatering selection they had to offer, I JUMPED at the opportunity!  I mean who wouldn't right?  The company has been specializing in high quality chocolates and friendly, old-fashioned service since 1921.  See's prides themselves in using only the finest grade raw ingredients giving consumers a choice of more than 100 different types of candies and chocolates in all.
See's Cares About Their Shoppers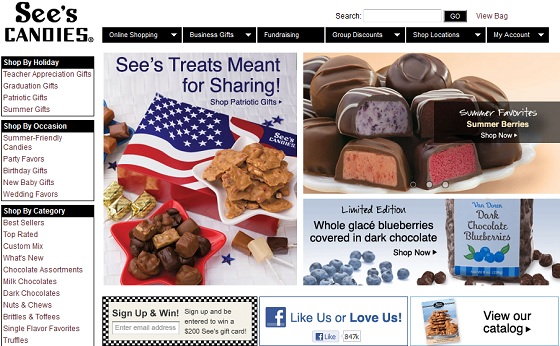 The initial thing I noticed straight away was that the See's Candies website was incredibly simple to navigate!    The gigantic candy assortment is broken down into helpful categories by types,  price, holidays, and occasions such as Summer-Friendly Candies, Patriotic Gifts, Birthday Gifts, Wedding Favors, Party Favors, and New Baby Gifts.  Taking into consideration the nearest See's shop is over 21 miles away from me I'm more prone to purchase the candy from the company's website as opposed to traveling to the store.  Developing a very well created site indicates to me that See's cares about their shoppers and is prepared to accommodate their customer's needs.  Furthermore, it saves me time in finding the candy I want to order so I can continue on with more pressing matters of the day,  like stopping my preschooler from trying to launch himself off the couch.
Custom Mix
Additionally, I also like how See's offers a Custom Mix box up to 5lbs!  You can build your own box of goodies by selecting pieces you want from the "Online Piece Identifier" and clicking "Add to Box.".   You can even adjust the proportions for each piece!  This is an awesome option, because not everyone cares for the same type of chocolates and this allows you to eliminate the ones you hate biting into.  For instance, I don't care for cream middles and if a box of chocolates doesn't have a key,  it's like playing Russian Roulette with my taste buds.  Not to mention, you're not paying for chocolates you don't want to eat!
Review Choices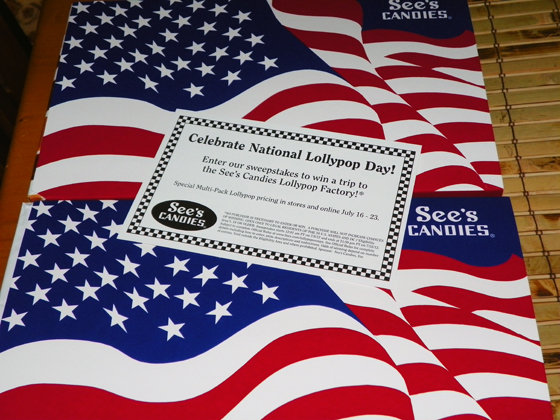 After browsing the online candy shop  for a couple of minutes and in the act drooling on my computer screen from looking at the yummy candies, I narrowed down my choices to review the Patriotic Lollypops and Patriotic Nuts & Chews!   Both selections are wrapped in a decorative patriotic sleeve and excellent to serve at office parties,  summer get-togethers or picnics.
Warm Weather Packaging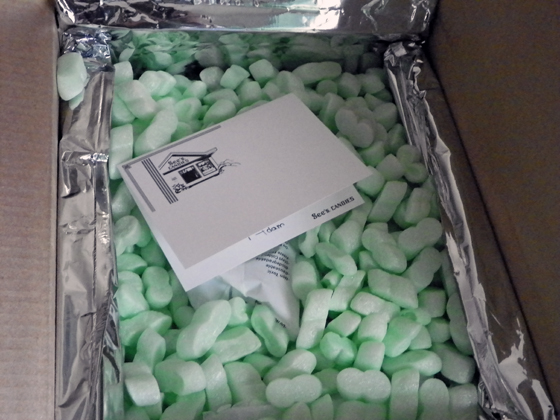 I was somewhat concerned if my candy would arrive without becoming a goopy mess, since the summer heat has been brewing creating the temperatures to remain in the high eighties.  Inevitably that could be disastrous for chocolates, particularly when they have been sitting in a UPS truck for hours!  However, my candy arrived in PERFECT condition.  See's uses warm weather packaging and cold packs during the summer months to protect chocolate orders from heat.   The candy boxes were actually still cool when they reached my front door.
Patriotic Nuts & Chews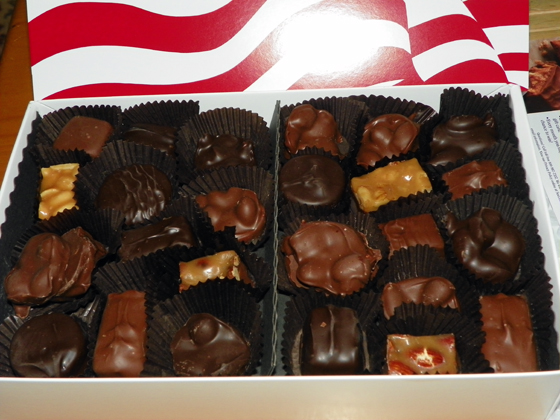 Oh my goodness,  I don't even know how to go about describing the scrumptious candy contained within the box!  This is most definitely the best nut combination of dark chocolate, milk chocolate, caramels, and nougats  I have ever tasted.  It has old-fashioned handmade goodness in each piece and the nuts were incredibly fresh and crunchy.  My favorite so far is the dark peanut nut candy which is loaded with roasted and salted peanuts surrounded by rich dark chocolate.  My second favorite is the Walnut Square.  It  is made with a combination of English Walnuts and mouth watering buttery caramel.  The square is  dipped half way in rich, dark chocolate to display the delightful center.  Very yummy!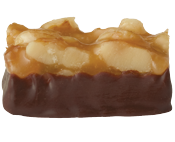 My husband has been sneaking down in the middle of the night grabbing a piece of candy while I'm sleeping.  He is immensely enjoying the See's Nuts and Chews!  Now I know what to get him for Christmas this year!
Patriotic Lollypops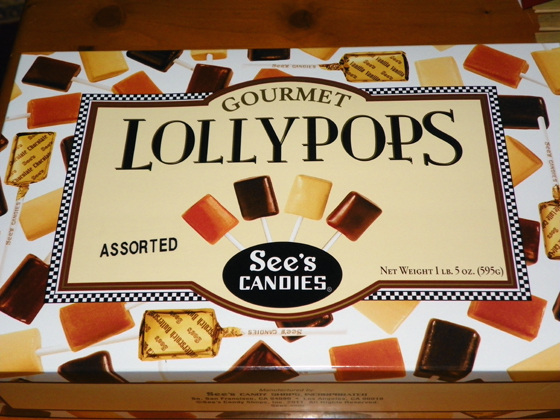 This is the first time I've had the pleasure of trying See's Candies Lollypops. I ordered the assortment which includes four flavors:  Chocolate, Café Latté, Butterscotch, and Vanilla.  There is only one word to describe these lollypops…AMAZING!  They are unique, creamy, and just plain delicious,  unlike anything I have ever had before.  Each piece of candy is individually wrapped and are in the shape of a square.  The gourmet  block of candy-on-a-stick is made  from heavy cream, butter, smooth chocolate, rich butterscotch, and Colombian coffee.  I absolutely LOVE these lollypops!  They last forever and are only 80 calories!  The Café Latté lollypop is by far my favorite.  I can honestly say I have found my new favorite piece of candy and after dinner sweet fix!  You just have to try them!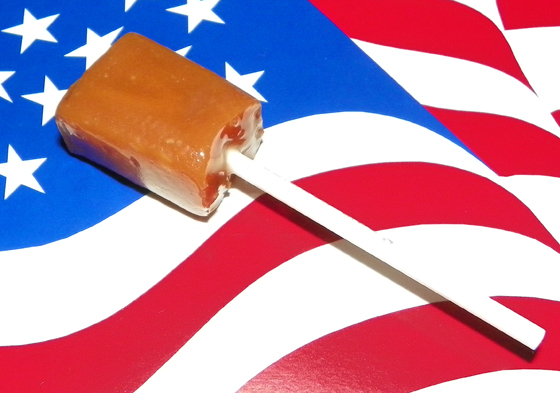 Conclusion
See's Candies, in my opinion, is a top notch company bringing old-fashion feeling and taste into every piece of gourmet candy they make.  The quality, freshness, and uniqueness has been putting smiles on the faces of adults and children for nearly nine decades!  See's is a great way to spread a little happiness around in a world desperately needing sweetness!  For the location of the See's Candy Shop nearest you, log onto www.sees.com
"2012 SEE'S NATIONAL LOLLYPOP DAY SWEEPSTAKES"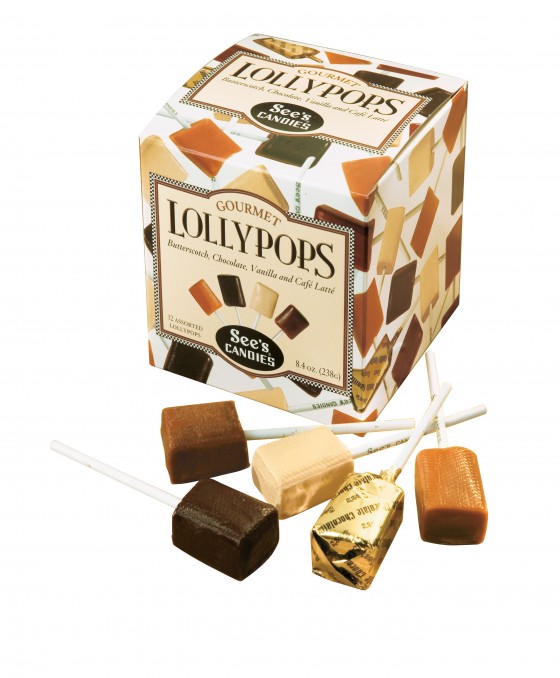 July 20 is National Lollypop Day and See's Candies is celebrating by giving customers the chance to win some fantastic prizes in their National Lollypop Sweepstakes!  Starting July 5th,  participates can enter for the chance to win a once-in-a-lifetime VIP tour of the Lollypop Factory and Candy Kitchen in South San Francisco!  The trip also includes  round-trip airfare for two, three nights at a San Francisco hotel, ground transportation and a $100 per diem. Entrants will also have the chance to win $50 See's Candies gift cards. Enter the Sweepstakes through July 22, 2012 at http://www.sees.com/LollypopSweeps or at any of the retail shops. Winners will be randomly selected on August 24, 2012.
Fair Trade and other certified Cocoa Beans :

In addition to See's activities and support of the World Cocoa Foundation, and its direct support of the ECHOES and Cocoa Livelihoods Program, See's has also committed to support farmers and sustainable farming efforts by purchasing chocolate made with a blend of cocoa beans purchased from Rain Forest Alliance Certified Farms. As See's chocolate purchases represent 1-2% of the total US chocolate market, See's is committed to purchasing more than twice that share of "certified cocoa beans", increasing purchases as availability improves. With this commitment, all of See's chocolates will contain a greater percentage of "certified" chocolate than See's share of the total cocoa market.
 See's Candies Giveaway!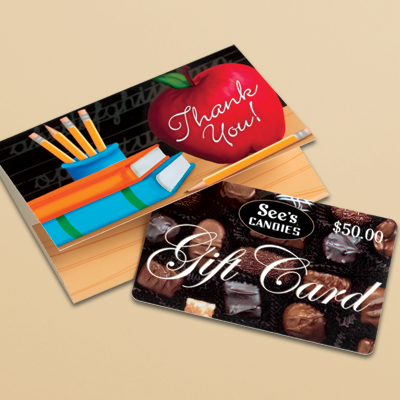 The very nice and generous people at See's would like to give a lucky reader a $25 See's Candies gift card! To enter the giveaway for the chance to win it, please visit the See's Candies website and let me know which product you would like to try the most.  Any comments are welcomed below, but won't count towards the giveaway. Only entries using the Rafflecopter form will be eligible for prize. Thank you!
[field name= iframe]